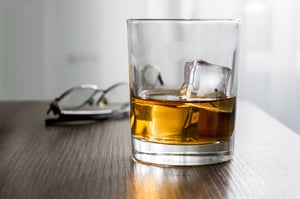 Fathers play an important role in your life. They guide you toward doing the right thing, teach the skills you need to be independent, and support you no matter what. And we think that's worth celebrating.
So, this Father's Day, surprise your dad with something truly special, a gift of scotch — or some accessories for drinking it with him.
Remind Me — What's the Deal with Scotch?
You probably already know this, but just for the record: scotch is short for Scotch whisky.
Don't be ashamed to brush up on the differences between Scotch whisky, Irish whiskey, and all the rest, because it's not just a matter of spelling and nation of origin.
You've seen popular ones on the shelf, such as Johnnie Walker, Glenlivet, and Macallan. Of course, you could simply give dad a bottle of his favorite (or his new favorite) Scotch. But with all the interesting, unique products available, you can easily step up your gift game for this Father's Day.
Simple Quality: Find a Vintage Bottle of Scotch
You don't need to spend thousands or tens of thousands of dollars to get a quality bottle of scotch. You can find a renowned scotch maker's vintage selection, like this 26-year Scotch by Glenfiddich, for a seriously special gift, or plenty of delicious 15-year Scotches well under $100 per bottle.
Get Personal: Customized Scotch Decanters and Glasses
Scotch bottles look nice... but why not pour and store scotch in a personalized glass decanter? Your dad will look extra classy offering his buddy a pour of scotch from his personalized decanter. Go ahead, have dad's initials or his last name etched on the glass. Can you say classy?
On the Rocks: Essentials for Drinking Scotch
If your dad likes his scotch chilled but not watered down, forgo normal ice cubes and buy a set of whisky stones instead. Place whisky stones in the freezer and add to your glass before drinking. It's as simple as that.
Gift Baskets Aren't Just for Mom
Start with a bottle of scotch dad might like to try. Then, add a specialty ice mold and a cocktail shaker set complete with a jigger and a strainer when he wants to get creative with his drinks. Set dad apart from his buddies by including cask-wood cufflinks perfect for a true Scotch lover.
The Extra Mile in Style: A Kilt
Bonus: If your dad is part Scottish, or just loves a spunky addition to his wardrobe, add a kilt to your gift. At the very least, it will give him something to wear around the house while he savors every sip of the fine scotch you give him.
For the Dad Who's More into Bourbon than Scotch
You don't need to buy him a plane ticket to Kentucky to put him in the midst of great bourbon. Pick a bottle of bourbon, add a nice crystal glass decanter, or just a stemmed glass for sampling in style. Does dad have a sweet tooth? Toss in a box of bourbon-filled chocolates.
Before long, dad will invite you to partake with him, and Father's Day this year will be one of the best ever, for everyone.