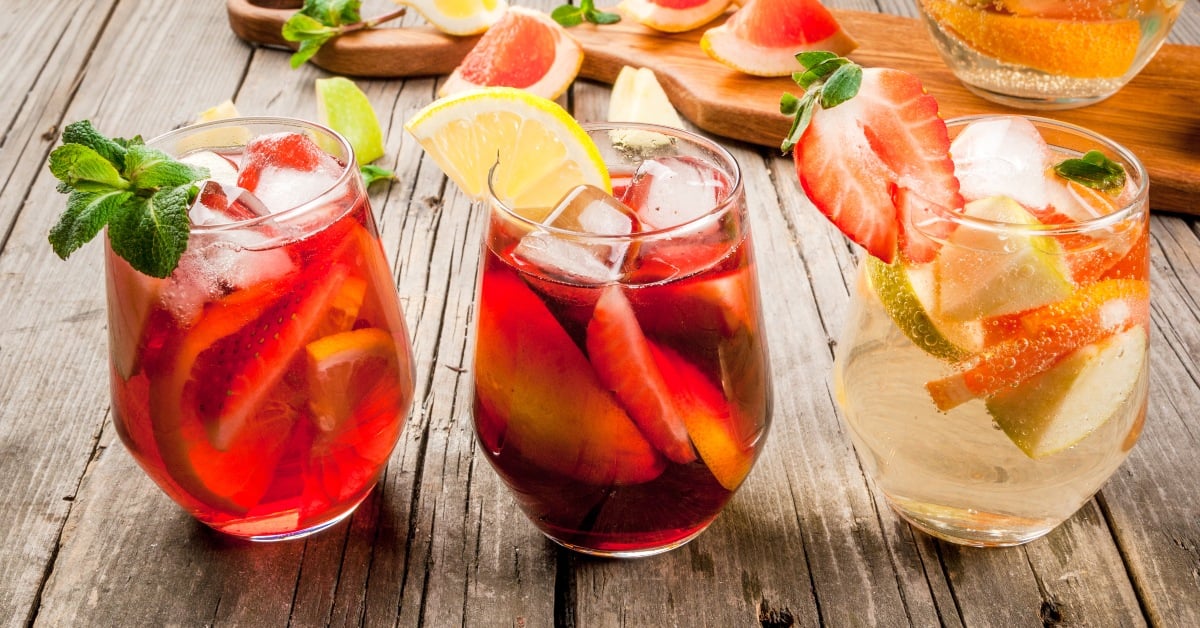 The origins of sangria are clouded in a bit of mystery, but it likely originated on the Iberian Peninsula in Spain and Portugal. Its name literally means "bloodletting," an allusion to its crimson color (depending on your recipe), and it hit its stride in America at the 1964 New York World's Fair, where it took the summer crowds by storm with its refreshing flavor.
At its root, sangria is basically two things: Wine and fruit. But the real magic of sangria is mixing it up and finding new ways to tickle tastebuds. However you make it, it's best enjoyed under the summer sun (which, contrary to popular belief, actually does shine on the Twin Cities every once in a while). Take a look at the basic elements of great sangria and a few of our favorite sangria recipes for summer.
The Basics (and Secrets) of Great Sangria
Variety is the spice of life – and sangria. Switch up the ingredients of your drink to find just the right mix. With the right balance of these basic elements, you pretty much can't go wrong – anything that keeps the flavor light, sweet, sour, and fruity is fair game.
Wine. Start with a full-bodied red, a tart white, or even a bright rosé. Each will impart your sangria with its own unique characteristics.
Fruit. Lemons, limes, and oranges are standby favorites, but almost any fruit (or fruit juice concentrate) can make your sangria dryer, more acidic, or sweeter, depending on the taste you're going for. Cherries, kiwi, mango, apples, raspberries, pineapple, strawberries… try your favorites!
Soda water (optional). Like your sweet cocktails a little bubbly? The fruity flavors of sangria play incredibly well with a bit of a bit of carbonation.
Liqueur (optional). If you dilute the wine with soda water, sangria can end up on the less-alcoholic side. For an added kick (and sweeter flavor), you can factor liquors or liqueurs into your sangria recipes.
Simple syrup (optional). You can cut the sourness of some fruit by adding simple syrup to your sangria. To make simple syrup, just simmer one part water with one part sugar until it's completely dissolved – it's easy to add if you're looking to take some of the acidic bite off lemon, orange, lime, and more.
Herbs and spices (optional). Play around with your favorite garnishes – we've had good luck with mint and were gobsmacked by the secret ingredient of one of our favorite sangria recipes: tarragon. Check that one out below!
Our Favorite Sangria Recipes for Summer
Ready to fill your pitcher? Try one of our tasty sangria recipes below, or riff on them by adjusting your wine base, types of fruit, and added liquors!
Honeycrisp Apple Sangria
Ingredients:
2 Honeycrisp apples (a Minnesota favorite)
750 mL (1 bottle) Haskell's Maison Blanc
1/3 cup peach schnapps
1/4 cup pisco
1/4 cup honey
2 oranges, 1 quartered
1 lemon, quartered
1 lime, quartered
2 cinnamon sticks
2 quarter-size slices of fresh ginger
3 cloves
2 tablespoons sugar
1/2 teaspoon ground cinnamon
Ice
Club soda
Mint sprigs, for garnish
Peel, core, and chop one of the apples. In a bowl, combine the Chardonnay, Schnapps, Pisco, and honey. Add the quartered orange, the lemon, lime, cinnamon sticks, the chopped apple, ginger, and cloves, and refrigerate for at least 4 hours. Strain the sangria into a pitcher. Peel, core, and finely chop the remaining apple. Peel, section, and chop the remaining orange. Mix the apple and orange in a bowl. On a small plate, blend the sugar and cinnamon. Moisten the rims of wine glasses and dip in the cinnamon sugar to coat. Fill the glasses with ice. Pour in the sangria until three-quarters full. Top with a splash of club soda. Garnish with a spoonful of the chopped apple and orange and a mint sprig.
Sparkling Sangria
Ingredients:
In a large pitcher, combine the brandy and orange liqueur. Pour in the sugar, stir or shake the pitcher thoroughly to mix until the sugar dissolves. Add all the fruit at once. Add the prosecco and serve as is or on ice.
Red Sangria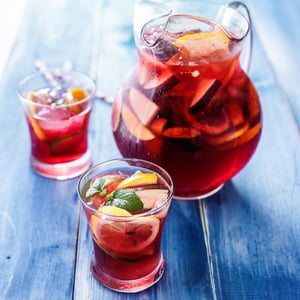 Ingredients:
1 bottle El Jamon Tempranillo
8 cups (64 fl. oz.) apple juice
1 small grapefruit, cut into eighths
1 medium orange, sliced thin crosswise
1 medium lemon, sliced thin crosswise
1 small pear, diced
1 medium apple, diced
Combine the wine, apple juice, and grapefruit pieces in a large pitcher. Mix well, cover and refrigerate overnight. The following day, add the orange and lemon slices to the wine. Refrigerate for another 3 hours. Add the pear and apple to the mixture, then allow to stand for a further 1 hour to absorb the flavor fully. Mix well and serve over ice.
The Fritzy's Spritzy
Ingredients:
Combine the wine, brandy, ginger ale, and ice in a large pitcher and mix well. Add the orange and lemon slices to the wine. Stir and enjoy!
All Day (Lemon) Rosé Sangria
Mango-Peach Sangria
Ingredients:
750 mL (1 bottle) Haskell's Maison Blanc
1/4 cup mint
1 cup Grand Marnier
2 peaches, cut into thin wedges
1 mango, chopped
1/3 cup water
1/3 cup sugar
In a saucepan, cook the sugar and water until the sugar dissolves; transfer to a pitcher and refrigerate until cold. Stir in the Grand Marnier, wine, mango, peaches and mint, and serve over ice. (Recipe from FoodandWine.com.)
The "Secret Weapon" White Wine Sangria
Ingredients:
750 mL (1 bottle) Haskell's Maison blanc
6 oz club soda
2 oz limoncello
2 oz brandy
Sprig of tarragon
1 peach, sliced
1 green apple, thinly sliced
1 lemon, thinly sliced
Watermelon Sangria
Ingredients:
2 pounds seedless watermelon, peeled and cubed
1/2 pound watermelon, balled
Skewers
750 mL (1 bottle) dry white wine (we recommend La Gondola Pinot Grigio)
6 oz. vodka
4 oz. Cointreau or other triple sec
4 oz. citrus syrup
Ice
In a blender, puree the watermelon cubes. Pour through a fine strainer into a pitcher. Add the white wine, vodka, Cointreau and Citrus Syrup. Stir and refrigerate for at least 2 hours. Stir again, then pour the sangria into ice-filled white wine glasses and garnish with the skewered watermelon balls. (Recipe from FoodandWine.com.)
Summer Sangria with Mint
Ingredients:
1 1/4 cups Silver Beach Sauvignon Blanc
1/3 cup sugar
1/2 ripe cantaloupe, halved, seeded, cut into 3/4-inch cubes (about 3 cups)
1 basket (8 oz.) fresh strawberries, quartered
1 cup seedless green grapes, halved lengthwise
1 tablespoon chopped fresh mint leaves
Bring the wine and sugar to a boil in a small saucepan, stirring until the sugar is dissolved. Boil for 2 minutes. Remove from the heat. Chop and combine the cantaloupe, strawberries, grapes, and mint in a large bowl. Pour the warm wine mixture over; toss to coat. Cover and refrigerate until cold, stirring occasionally, at least 2 hours. Transfer the fruit mixture to a wide jar with a tight-fitting lid. Keep chilled. (Recipe from Food Network.)
Uncle Terry's St. Paul Sangria
In a punch bowl, combine red wine, brandy, and triple sec. Add the sliced fruit. Add club soda just before serving ladled over ice.
White Wine Punch Sangria
Ingredients:
3 (750 mL) bottles of Gergenti Grillo Chardonnay
¾ cup Grand Marnier
½ cup freshly squeezed orange juice
¼ cup freshly squeezed lime juice
¼ cup freshly squeezed lemon juice
1 cup simple syrup
1 ripe plum, thinly sliced
1 firm peach, thinly sliced
1 orange, thinly sliced
2 limes, thinly sliced
1 pint raspberries
In a punch bowl or large glass container, combine chardonnay, Grand Marnier, and orange, lime, and lemon juices. Add the sliced fruit. Serve ladled over ice. (Recipe from Saveur.)
You can grab all the essentials for these recipes or your own mix at Haskell's! Order online for curbside pickup today.