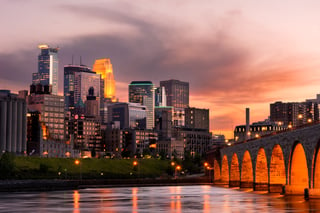 Minnesota-grown grapes are a world away from the vineyards of France and Italy, and three hours on a plane from California, but we humbly say we have a wine region for which we can all be proud. Thanks to the innovation of scientists and researchers at the University of Minnesota, we have one of the top wine grape programs in the United States. And, one man we should really thank is Elmer Swenson, a farmer who started breeding grapes over in Osceola, WI in 1943, then in 1969, teamed with the U of M.
Minnesota Wine Spotlight
The grapes: Cold-hardy grapes that thrive in our region, include Frontenac, Frontenac Gris, La Crescent, and Marquette.
Our region is broken down into five wine trails throughout the state: Upper St. Croix, St. Croix, Heartland, Three Rivers, and the Great River Road Wine Trail.
Minnesota Wine Trails: Pack a lunch, take a drive, and discover Minnesota's diverse wine region.
Upper St. Croix Wine Trail: This fast growing wine region is home to five family-owned wineries.
St. Croix Wine Trail: Home to three of the state's oldest wineries.
Heartland Wine Trail: Geographic diversity in this region helps showcase a variety of wine styles made from the same grape.
Three Rivers Wine Trail: The state's first wine trail is home to five wineries.
Great River Wine Trail: The youngest wine trail was founded in 2009, when nine wineries joined together. Now, that has grown to 11 wineries, all located near the Upper Mississippi River.
Minnesota Wines to Try
With more than 60 regional wineries, there are plenty to swirl and sip. If you need help deciding where to begin, here are three of our picks.
Resources to find out more about local wines and vineyards:

Founded in 1934, Haskell's has championed fine wines for over 80 years. We have 13 wine stores in Minnesota, two delis and one restaurant. As one of the top wine shops in North America, Haskell's is known for legendary service and one of the finest collections of wine, beer and spirits. Led by Chairman and CEO Jack Farrell, and the Farrell family, Haskell's continues to be at the forefront of the wine scene throughout the world. Haskell's also can ship wine, beer & spirits all throughout the world, the U.S. and we deliver locally.