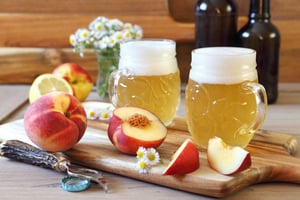 Have you ever taken a sip of a freshly poured pint, then instinctively wrinkled your nose while your tongue danced in wild confusion? No, your bartender didn't tap a jar of vinegar or serve you bad brew — it's a sour beer.
Beer can taste sour? Yep, and it's no accident. Wonky, fruity, and all manner of sour beers are growing in popularity, and we're here to help. True, sour beers aren't for everyone, just like pickled herring, pickled peppers, or fermented whatever-else-your-hippie-aunt-experimented-on. But if nothing else, be prepared for next time when you slurp a sour one and impress your friends with impressive beer knowledge.
Whether you find some in the store or on tap at your local pub or restaurant, here are a few exceptionally tasty sours that will quench your thirst this summer.
1. Avery Brewing Apricot Sour
Clocking in at 7.3% ABV, little hoppiness, and loads of lactic acidity, Avery Brewing's Apricot Sour beer requires a serious apricot fan to muscle all this sour offers. Barrel-aged and bright, this brew finds a niche in the intensity of citrus juiciness with a laid-back malt character. Let the tart apricot dance on your palate.
2. Bank Brewing Sour Bomb
Sharp mouthfeel and tart brightness sound more refreshing than the danger this beer's name implies: Bank Brewing Sour Bomb. Think of a bed of malty sweetness pummeled by an attack of citrusy carbonation. Don't worry, it's not as sour as you might expect from its intimidating title. If you're looking for a plain tartness with not much else to distract you, give this one a shot.
3. Epic Brewing Sour Apple Saison
You've probably heard of Belgian-style beers picking up popularity in the United States. Your beer-nerdiest buddy probably told you about Saisons, a name she couldn't pronounce with certainty but made you interested nonetheless. (Hint: Think French and try "say-sone.")
For this addition to their bottle-conditioned Exponential Series, Epic Brewing Company raided your spice cabinet and bushels of green apples from the orchard. Behold the Sour Apple Saison, with the tart dryness of green apples that mesh with a sweet base. Then, the spices hit. Can you taste all the natural flavors of coriander, anise, nutmeg, cloves, cinnamon, cardamom, and ginger?
4. White Birch Brewing Sour Brown Small Batch Ale
Wait a second — a sour brown ale? Aren't sours usually lighter-bodied and fruity? Guess again.
New Hampshire's White Birch Brewing got a little funky to make this small batch offering for you. The Small Batch Ale lineup includes this Sour Brown, which might be hard to find. The long and short of it: snatch it up and savor its strange but alluring intersection of smooth brown/amber ale territory and tart sharpness. For friends who aren't sure they're down with the idea of a sour beer, this might be the one to introduce them to first.
5. 6. and 7. Belgian Sour Power Variety Pack
Travel to the Old World for a sour voyage through a few different brews. Grab a friend and enjoy two of each style from the Belgian Sour Power six-pack. Aged in oak for more than two years, Petrus Aged Pale Ale is a highly regarded beer that's won multiple gold medals worldwide, so it serves as a standard for today's sour brewers. Petrus Oud Bruin is a moderate young brown beer with 5.5% ABV and more approachability than your average sour. Similar to Oud Bruin but more burgundy than brown, try Monk's Café Flemish Red Ale.
Which sour beer will you try first? Explore the aisles at Haskell's for your tart excursions before you turn sour.