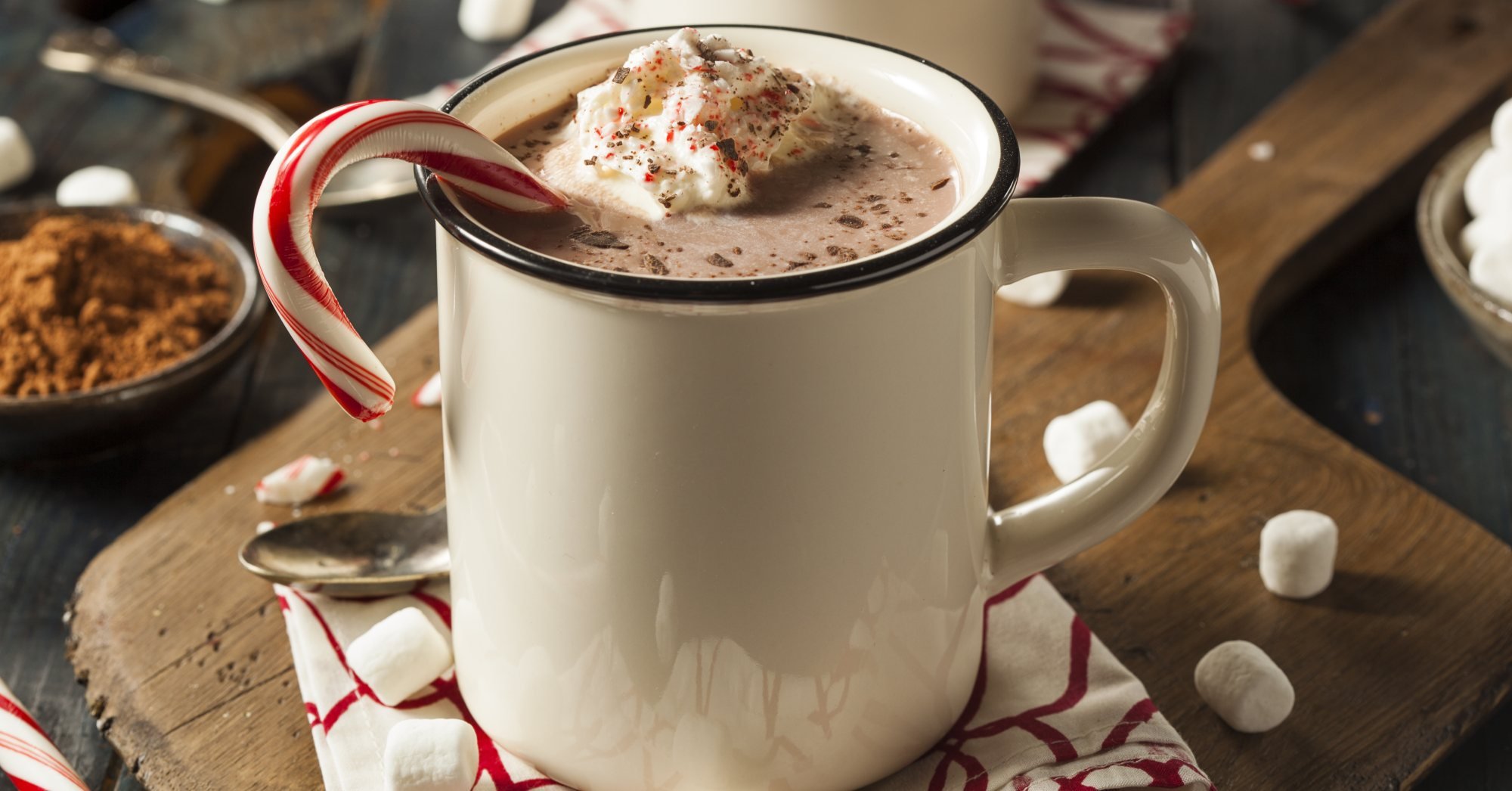 Peppermint schnapps tastes like a candy cane in liquid form: sweet but not too sweet, minty with a nice, peppery spice. Unlike liqueurs and crème de menthe, it's got a subtler sweetness that makes it an ideal choice for cocktails without skimping on crisp minty flavor. Warm drinks with peppermint schnapps are also the perfect way to stay toasty during the midwinter chill. (You're just keeping warm! Nothing wrong with keeping warm!)
Whether you like your cocktails on the hot side or on ice, try these peppermint schnapps cocktails this season (before the weather warms up and you have to come up with another excuse).
Warm Peppermint Schnapps Cocktails
Hot Chocolate with Peppermint Schnapps (serves 6)
Ingredients:
1 quart milk
6 ounces semisweet chocolate, chopped

6 ounces peppermint schnapps (try

Phillips Sno Shoe Grog

)

whipped cream, for serving
6 peppermint stick candy, for serving
Instructions:
Heat 1 cup of the milk in a medium saucepan over low heat.
Add chocolate, stirring constantly, until melted.
Increase heat to medium (don't let it boil!) and add the remainder of the milk while whisking rapidly.
Serve in small cups fortified with a jigger (1 1/2 ounces) of peppermint schnapps and a dollop of whipped cream.
Add a peppermint stick to stir.
Winter White Russian
(Recipe modified from The Blond Cook)
Ingredients:
Instructions:
Fill an old-fashioned glass with crushed ice.
Fill a bar shaker half-way with ice. Pour in vodka, coffee liqueur, peppermint schnapps and heavy cream/half & half.
Secure lid and shake vigorously for 10 to 15 seconds.
Strain into glass and sprinkle with nutmeg.
Garnish with cinnamon stick and star anise, if desired.
Cold Peppermint Schnapps Cocktails
Peppermint Pattie
(Credit: Food Network)
Ingredients:
Instructions:
Combine ingredients in a shaker with ice.
Stir gently and strain into a chilled cocktail glass.
Vanilla Peppermint Martini
Ingredients:
Instructions:
Add vodka and schnapps to the shaker and shake well.
Crush candy canes in a plastic bag.
Wet the rim of your martini glass with the lime and dip it in crushed candy canes.

Alternatively, just dangle a candy cane from the rim for some holiday flair.

Pour vodka and schnapps into the glass, and add a sprig of mint at the end.
White Chocolate Peppermint Martini
(Credit: Betty Crocker)
Ingredients:
Marshmallow fluff
2 peppermint candies, crushed
Ice

1/4 cup

vanilla vodka

1 tablespoon

peppermint schnapps

1 tablespoon peppermint schnapps
1/4 cup white chocolate liqueur
Instructions:
Dip the rim of a martini glass in marshmallow topping, then in the crushed peppermint candies.
Drizzle some marshmallow topping on the inside of the glass. (Just a bit!) Place glass in the freezer to chill the topping.
In a shaker with ice, add vodka, schnapps, and the liqueur. Shake until mixed.
Take the martini glass out of the freezer and pour the mixture into the glass.
Sprinkle with crushed peppermint.
Lemon Mint
Ingredients:
1 ounce peppermint schnapps
6 ounces lemonade soda
Ice cubes
1/2 lemon slice or mint leaf (optional, for garnish)
Instructions:
Fill tall glass about 3/4 full with ice cubes.
Mix ingredients together in glass.
Garnish with lemon slice or mint leaf, if desired.
Jack Frost Manhattan
(Credit: Cocktail Times)
Ingredients:
Instructions:
Set martini glass in freezer for 5 minutes to chill.
Mix all ingredients in a cocktail shaker with ice.
Remove the martini glass from the freezer and strain mixture into the glass.
Garnish with cherry, if desired.
Shop schnapps, liqueurs, spirits, and all the other beverages you need to outlast the Minnesota winter at Haskell's!