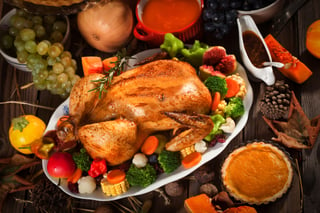 Now that the Halloween candy bowl is empty (right?), it's time to think about the next big holiday. And that means Thursday, November 26 — Thanksgiving. Get ahead of the game by putting together your shopping list now for the big day and that includes picking the perfect wines to match your holiday feast. And who else are you going to rely on for expert picks for your Thanksgiving wine?
If traditional turkey is the main event, we have a few ideas to bring to the table. Whether you are hosting or a guest, it's great to have a few bottles to share with your loved ones. While many think turkey automatically means it needs to pair with a white wine, there are some alternatives to consider. We've picked a variety of red and white wines that will compliment the big bird without overpowering your holiday meal. There are no rules, however it's best to avoid big, tannic wines that will overpower the food. Keep it light and refreshing.
Three Types of White Wines to Consider for Thanksgiving
Sparkling wine or Champagne – Sparkling wine is always a great wine to celebrate with. It's a great place to start with because it welcomes people into your home. It also pairs well with most appetizers because it balances well with salty foods. Plus, sparkling wine is a celebration in each bottle and what host doesn't enjoy popping the cork off a bottle of effervescent delight.
Vouvray – One of the best wines to pair with Turkey comes from the Loire Valley in France and is called Vouvray. Most bottles are under $20. The wine is made with Chenin Blanc grapes. They produce a slightly sweeter wine with a nice touch of acidity. If you have never tried Vouvray with your Turkey, 2015 is the perfect time to try something new.
Rieslings or Gewurztraminer (ga-VERTZ-trah-mee-ner) – sweet or dry – these wines can cover the spectrum from bone dry to super sweet. They do pair beautifully with a traditional turkey dinner, rich with herbs, garlic, and onion. They complement turkey and all the trimmings very nicely.
Three Types of Red Wine to Consider for Thanksgiving
Pinot Noir - It's our favorite type of red wine to go with Thanksgiving. Generally light to medium bodied, these elegant wines have gentle tannins and go well with the traditional side dishes, including those green bean casseroles. Go with a Burgundy from France for value. Or try a Pinot Noir from Oregon or California for an extra special American holiday feast.
Beaujolais – Everyone enjoys fresh & lively Beaujolais at the dinner table. These refreshing fruit forward wines are crowd pleasers. The 2015 Nouveau Beaujolais will release worldwide on Thursday, November 19th, 2015. Just in time for the Thanksgiving feast. Tradition states if you drink a bottle of Nouveau Beaujolais in the year it is made, you will good luck all the following year. Haskell's will be offering 3 producers of Beaujolais Nouveau this year, all at $8.99. But these will only be available in store.
2015 Beaujolais Nouveau Bouchard
2015 Beaujolais Nouveau Mommessin
2015 Beaujolais Nouveau Duboeuf
Zinfandel – We often think autumn with this rich wine style. It's a great wine for Thanksgiving, especially if the turkey tends to run dry. Lower tannins, hints of cinnamon and vanilla, what's not to love?
And what about something to go with that generous slice of pumpkin pie and fresh whipped cream? Consider a Moscato d'Asti or ice wine. Both will compliment your pie well. Should you desire a very rich treat, look no further than our selection of Port. You'll be full, happy and ready for that nap.
Founded in 1934, Haskell's has championed fine wines for over 80 years. We have 13 wine stores in Minnesota, two delis and one restaurant. As one of the top wine shops in North America, Haskell's is known for legendary service and one of the finest collections of wine, beer and spirits. Led by Chairman and CEO Jack Farrell, and the Farrell family, Haskell's continues to be at the forefront of the wine scene throughout the world. Haskell's also can ship wine, beer & spirits all throughout the world, the U.S. and we deliver locally.