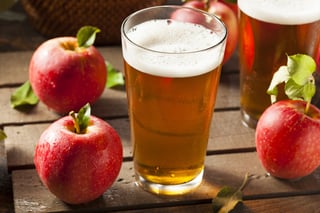 Once October hits, it seems our fascination and deep thirst for all things from the orchard strikes – whether it's apples or pumpkins, you'll notice an explosion of autumn favorites. Minnesota's booming cider beer scene is exciting and fruitful. Our orchards are plump with arguably the country's best apples, so it's only logical we'd crush it with our ciders.
Hard Facts
What's the difference between a beer and a cider? Everything, except perhaps the delivery system. Bottle or can.
First, a beer is basically defined as a fermented alcoholic beverage brewed from malt and flavored with hops. Cider is an alcoholic beverage made from the fermented juice of fruit, most often apples. Hard cider can be classified from dry to sweet.
7 Minnesota Cider Recommendations from Haskell's Beer Experts:
If those aren't enough, here are some other ciders from other places.
Looking for great day trips this autumn? Don't forget to visit Minnesota's apple orchards and cideries.
If you're not one to hit the open road on a cidery tour, you can always stop by the closest Haskell's location to pick up your favorite cider from the wish list. Of course, you can pre-order and pick up or have us deliver, too. Plus, you're just in time for our Fall Sale. Catch the best deals of the season by clicking the icon below!