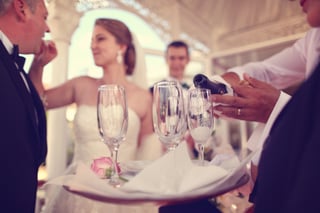 It's the time of year when love is in the air and wedding bells are ringing. When planning your special day, there are many checklists to compile and one area we can certainly help with is ensuring you have the perfect wine and beverages to toast the newlyweds. So, here are our time-honored tips on how to choose wine for a wedding and estimate liquor and open bar costs.
Before you pick the wine, here are a few things to consider:
Budget: Every wedding comes with a budget. Look at what you wish to spend for wine and champagne (for the toast).
Guest list: How many adults will be in attendance?
What foods will you be serving?: Fish and seafood or rich meats and cheeses? Just like any other meal or party, it's important to match the wine and beer to the food.
Summer wedding?: Guests at outdoor summer weddings tend to drink more white wine than red more refreshing cocktails and beer than heavy, darker drinks.
Consider a modified full bar for your reception, cocktail hour:
Mixers: Juice (usually orange and cranberry), soda (such as ginger ale and a cola), tonic water, and club soda
Garnishes: Lemons and limes
Beer: Pick at least two options. Are there regional options? For instance, if a Minnesotan and a Wisconsinite are marrying, pick a local MN craft beer and a Wisconsin favorite.
Wine: Pick a favorite red and white wine.
Champagne, or sparkling: If you decide to provide champagne, make sure there's enough bubbly for everyone to have a toast, plus a little extra.
What wines to pick for your wedding reception:
We recommend keeping it simple. Select one white, one red, and one sparkling wine. For a summer wedding, add a dry Rosé to the mix. Select a regional favorite. If the couple has a connection to California, France, or Italy, for instance, consider wines from those areas.
Rules of thumb for your wedding bar:
Figuring out how much wine, spirits, beer and soft drinks you need is not an exact science, but here's what we know when it comes to a wedding party. Assume each guest will consume about two drinks during the cocktail hour and one drink per hour for every remaining hour for the duration of the party.
And, don't forget those who don't drink. Have plenty of non-alcoholic options available as well.
Do your math on wine, open bar costs–a rough calculator:
It's always better to have too much wine than too little. By using a formula, then perhaps adding a few extra bottles, you and your guests should be happy.
A general rule of thumb is one drink per person per hour of your reception, but you can get more specific (factoring in light or heavy drinkers) by using an alcohol calculator to help estimate how much you'll need.
Here are two calculators that we recommend:
Some general wine, spirit and beer cost estimates
Beer Price Ranges
Low-Cost Beer (24 pack): $18.99
Mid-Cost Beer (12 pack): $12
Premium beer (12 pack): $20+
Wine Price Ranges
Low-Cost Wine (.750L bottle): $8-10
Mid-Cost Wine (.750L bottle): $12-15
Premium Wine (.750L bottle): $18-20+
Spirits Price Ranges
Low-Cost Spirits (1.75L): $15
Mid-Cost Spirits (1.75L): $25
Premium Spirits (1.75L): $40+
A big savings opportunity -- returning unopened bottles for your money back
Here's the biggest part of your cost estimate calculation -- recoup the cost of any unopened bottles after your wedding reception. If you return any unopened bottles to Haskell's, you'll receive your money back for those bottles, saving you money and allowing you to over-stock on your big day.
Get quantity/cost estimates, planning help, and bartenders right from the source
Overwhelmed? No worries. Our friendly staff can help you plan your wedding reception beverage offerings, and you can hire a professional bartender from Haskell's! Our bartenders-for-hire can work with you on your budget and selections, and will ensure you have all the booze, all the ice, all the glasses, and that your guests stay hydrated throughout the night. You'll save money, time, and a few worries by trusting our experienced professionals to run the bar
And, of course, Haskell's delivers. Whether you need a case of beer or ten, we've got your beer, wine, and spirit connection.
Make it extra special with a custom label.
Consider a special custom wine label with the newlyweds' name and wedding date on the bottle. It includes the label, wine, and gift box. And a volume discount is available. The more you order, the less it costs.
Cheers!