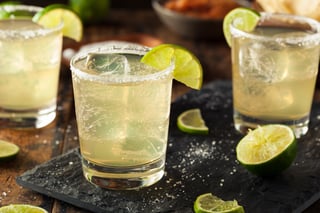 Did you know that February 22 is National Margarita Day? Why Feb. 22? Who knows, but we're happy to celebrate.
The classic Margarita is simply tequila, lime juice, and Cointreau or Triple Sec, served on the rocks in a glass with a salted rim. To enjoy a Margarita, one must appreciate tequila — basically a distilled spirit made from the blue agave plant in the Mexican city of and near Tequila (it's a place).
There are 200 types of agaves found in Mexico, and they are classified much like fine wines.
First, tequila that is labeled 100% de Agave can only be bottled in Mexico. It refers to being made from the blue agave plant and does not have added sugars. Mixto refers to tequila that is made with blue agave plus non-agave sugars such as sugar cane. These are usually simply labeled Tequila.
Blanco or Silver
Spanish for the word "white," this is transparent and aged less than two months.
Joven or Gold
Basically the same as Blanco or Silver but with added coloring and flavoring.
Reposado
Spent two months to a year in an oak barrel or cask.
Añejo
It's been aged and oaked for one to three years. Nice sipping tequila.
Extra añejo
Aged in oak at least three years, and are sipping tequilas.
Margarita Fun Facts
In 2005, Smithsonian's National Museum of American History acquired the world's first frozen margarita machine, invented in 1971 by Dallas restaurateur Mariano Martinez.
Five Margarita Recipes You'll Want to Try
For these Margarita recipes, go for the Silver – or go crazy and reach for the Gold. Cheers.
Ingredients:
Lime slice, 1/2 inch thick, for salting glass
Kosher salt
2 ounces silver tequila
1 ounce Cointreau
¾ ounce fresh lime juice
Rub lime slice around outer rim of cocktail glass. Place salt in a dish. Holding glass parallel to dish, coat only the outside with salt. Place glass in refrigerator.
Fill a cocktail shaker with ice and add tequila, Cointreau and lime juice. Shake well. Strain into chilled cocktail glass.
Ingredients:
1 3/4 cups chilled pomegranate juice
Kosher salt
1 1/2 cups silver tequila
1 cup triple sec
2/3 cup fresh lime juice
Ice cubes
8 lime wheels, for garnish
Pour 1/4 cup of the pomegranate juice into a saucer; spread kosher salt in another saucer. Moisten the outer edge of 8 margarita glasses with the pomegranate juice, then coat with the salt.
In a pitcher, stir the remaining 1 1/2 cups of pomegranate juice, the tequila, triple sec and lime juice. Working in batches, shake the mixture in a large ice-filled shaker, then strain into the glasses. Garnish each margarita with a lime wheel and serve.
Ingredients:
6-8 slices cucumber
Small handful fresh cilantro (1/2 to 3/4 of a cup, loosely packed)
1 1/2 to 2 shots silver tequila
1 shot triple sec
1 shot fresh lime juice
Combine all of the above in a blender and blend until smooth. Strain through a mesh sieve and pour into two ice-filled lowball glasses. Garnish and serve immediately. Makes 2 margaritas.
Ingredients:
6 oz. Blanco tequila
2 oz. triple sec
6 oz. limeade concentrate
2 cups ice
1 chopped avocado
6 oz. water
Blend all ingredients in blender until smooth.
Ingredients:
2/3 cup fresh lime juice
1/4 cup sugar
1 cup 100% agave silver tequila
1/2 cup Cointreau
2 cups fresh blood orange juice (you'll need about 6 juicy blood oranges)
A lime half for moistening the glass rims
Kosher (coarse) salt
Ice cubes (you'll need about 6 cups — small ones are best)
In a large pitcher, stir together the lime juice, sugar, and 3/4 cup water until the sugar has dissolved. Add the tequila, Cointreau and blood orange juice. Cover and refrigerate until chilled, about 1 hour.
Moisten the rims of three 6-ounce martini glasses with the cut side of a lime half. Spread coarse salt on a small plate, then upend the glasses into the salt to crust the rims. Fill a cocktail shaker about 3/4 full of ice and measure in 1 1/2 cups of the margarita for 3 drinks. Cover and shake for about 15 seconds to thoroughly chill the mixture. Strain into the prepared glasses and hand to your guests. When you're ready, finish the remaining margaritas in the same way.

Founded in 1934, Haskell's has championed fine wines for over 80 years. We have 13 wine stores in Minnesota, two delis and one restaurant. As one of the top wine shops in North America, Haskell's is known for legendary service and one of the finest collections of wine, beer and spirits. Led by Chairman and CEO Jack Farrell, and the Farrell family, Haskell's continues to be at the forefront of the wine scene throughout the world. Haskell's also can ship wine, beer & spirits all throughout the world, the U.S. and we deliver locally.