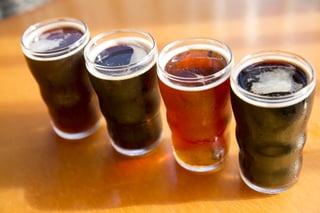 Enjoying a beer has long been a social event. We gather at bars, get together with buddies, and share camaraderie over a cold one. But don't let cold weather keep you from getting out there enjoying all things brewed. There is always something fun happening in Minnesota because we don't let cold temperatures or a little keep us cooped up. So, here is our list of MN beer events in 2016 to keep on your radar during the first few months of the year.
Imperial Black IPA Release Party
Bank Brewing Company – Hendricks, MN
January 9, 2016
Enjoy live music with the Carlson and Johnson band (goes on at 5:00 pm), pizza, nachos, and beer. For tickets, click here.
The Happy Gnome
January 12, 2016
The Happy Gnome hosts Founders Brewing co-founder Dave Engbers at this five course, six beer dinner. The evening should prove to be both entertaining and delicious. Chef Scott Brink's menu will feature custom pairings with Founders 2014 KBS, Blushing Monk, and 2015 Backwoods Bastard, just to name a few.
Verizon Wireless Center
January 16th, 2016
3:00-6:00 pm
The 4th annual Mankato Craft Beer will showcase the offerings of craft breweries here in Minnesota, as well as from across the United States. Attendees at the expo will have the opportunity to sample beers from over 40 different craft breweries in a commemorative sampling glass. In addition, enjoy education seminars, live music, and food vendors.
January 16, 2016
8:30 am – 10:30 pm
*Note: The January 16th tour is sold out, but a March 19th event has added tickets.
The tour features roundtrip transportation from the Twin Cities to the North Shore, and includes:
More than 25 craft beer tastings.
Exclusive access to six different microbreweries and brewpubs on the North Shore.
Private tours of select breweries.
Coffee and pastries.
Beer-inspired pub fare lunch.
Gourmet dinner.
Take-home pint glass.
January 16, 2016
Starts at 1:00 pm (VIP), general at 2:00 pm
Enjoy unlimited 2 oz. tastings of approximately 175 craft beers from all over the country and 21 Minnesota brewing companies. Food will be available for purchase for all Tourists. VIP Tourists will have the first hour to themselves to sample these great brews. General Admission Tourists will be admitted at 2:00 pm and the samples will flow until 5:00 pm.
The Beer Dabbler Winter Carnival
St. Paul
February 6, 2016
Get ready for the 7th Annual Beer Dabbler Winter Carnival. With craft beer from 120+ breweries, live music, gourmet food from local food trucks, and a flurry of winter activities, Minnesota's biggest outdoor beer festival is an experience not to be missed. Held in partnership with the St. Paul Winter Carnival, the festival is a true celebration of winter in Minnesota.
Northern Lights Rare Beer Fest
Minnesota History Center
March 16, 2016
The Northern Lights Rare Beer Fest features rare, vintage, and specialty one-off beers from 30 select craft breweries from across the United States, including ten from Minnesota. This one-of-a-kind event will showcase the creativity and skill of some of the top craft brewers in the country.
If you travel and love beer, here are some beer events you might want to plan a trip around in 2016:
June 3-4, 2016
Washington, DC
June 9-11, 2016
Baltimore, Maryland
October 6-8, 2016
Denver, Colorado
Have fun, sample some suds, and if you find some new brews that you love, you can always order them here, 24/7 at Haskells.com.
Founded in 1934, Haskell's has championed fine wines for over 80 years. We have 13 wine stores in Minnesota, two delis and one restaurant. As one of the top wine shops in North America, Haskell's is known for legendary service and one of the finest collections of wine, beer and spirits. Led by Chairman and CEO Jack Farrell, and the Farrell family, Haskell's continues to be at the forefront of the wine scene throughout the world. Haskell's also can ship wine, beer & spirits all throughout the world, the U.S. and we deliver locally.