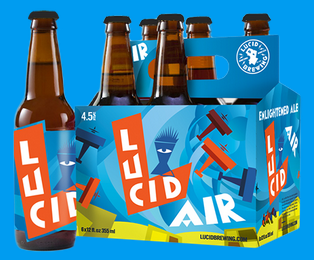 Summer in Minnesota: hot sun, cool lake, cold beer. That's the feeling you get when you pop open a beer from Lucid Brewing out of Minnetonka. Lucid joined the list of Minnesota's craft beers after Eric Biermann and Jon Messier had a "Lucid" thought: "Let's throw away the ties and the corporate ladders. Let's start a craft beer brewery!" We're pretty sure it wasn't as easy as it sounds, but the beer they produce is pretty easy drinking.
And, it didn't' take long for the accolades to come in. The Star Tribune named Lucid Brewing Best New Brewery in 2013, and we're glad we at Haskell's have the opportunity to share their beer with you.
Let's Take a Tour of Lucid's Beers
Air
American Pale Wheat Ale. Their "flagship beer" was the first offering from Biermann and Messier.
ABV:

4.5%
Dyno
A crisp American Pale Ale. Think citrus, hops, sultry summer night.
ABV: 5.2%


Duo
You'll want to leave the keys on the counter and enjoy staring at the stars with this double IPA. It's loaded with goodness.
ABV: 9.0 %
Silo
Here's a Saison when you when you want crisp brew while gardening or working around the yard.
ABV: 5.5%
Foto
These local brewers keep it micro-local with hops grown in Pine City, Minnesota. You'll feel good about this home-grown Wet IPA.
ABV: 6.5%
Ora
For amber ale lovers, this one is a bit malty, a little bitter, and a whole lot delicious.
ABV: 6.5%
Lucid Duce
Pronounced DOO-chay, this Imperial Red Ale is bold and powerful The American Amber-style ale returns for a limited second run – great for a cooler night.
ABV: 8.0%
And when the guys aren't making beer, their supporting their Lucid Racing Cyclocross Team. Beer, bikes – these are Minnesota homegrown guys who help keep Made in Minnesota trending.
And, if we sound like we have a love affair with our Made in Minnesota brewers, we do. We're quite proud of the all the new breweries and distilleries opening in the state — and Midwest — who help keep our traditions alive. Stop by and let us introduce you to your next favorite locally made beer or spirits.
Founded in 1934, Haskell's has championed fine wines for over 80 years. We have 13 wine stores in Minnesota, two delis and one restaurant. As one of the top wine shops in North America, Haskell's is known for legendary service and one of the finest collections of wine, beer and spirits. Led by Chairman and CEO Jack Farrell, and the Farrell family, Haskell's continues to be at the forefront of the wine scene throughout the world. Haskell's also can ship wine, beer & spirits all throughout the world, the U.S. and we deliver locally.