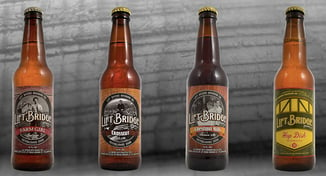 A historic lift bridge dominates the scenery in Stillwater, connecting Minnesota and Wisconsin over the St. Croix River. And, it's that particular lift bridge that is the namesake of a craft beer making a splash throughout the state. Some breweries start out as ideas over beers. Some start with home-brewers in garages. And others, like Lift Bridge Beer Company, get their start in a basement in 2008. From the cellar to the taproom to the beer coolers at our stores, these guys have crafted a winning formula.
Got Beer? Yes, yes, we do.
Here's the lowdown on year-round offering of craft brews from our friends at Lift Bridge:
Farm Girl

5.8% abv
Belgian yeast, nicely balanced, highly drinkable.
Crosscut 5.5% abv
American Ale that pays homage to the lumberjacks of yore.
Chestnut Hill

6.3% abv
It's starting a cool down just in time to warm up with this malty American Ale.
Hop Dish IPA 7.5% abv
If you enjoy hops, here's an American IPA with your name on it.
If you like their yearly brews, you'll love their seasonal beers like the Mango Blone, Citra Kellerbier, and Getway Pilsner, and Limited Release brews – Commander, Irish Coffee Stout, Biscotti and Silhouette.
The taproom in Stillwater is also making headlines for its events, with two special ones on the roster. September 12 is their anniversary party, and on September 13, they'll host Poli-NATION – an event to raise awareness for the importance of bees.
Pick up your favorite Lift Bridge beer at any of our Haskell's locations, or have it delivered to your door with the Drizly app.
Founded in 1934, Haskell's has championed fine wines for over 80 years. We have 13 wine stores in Minnesota, two delis and one restaurant. As one of the top wine shops in North America, Haskell's is known for legendary service and one of the finest collections of wine, beer and spirits. Led by Chairman and CEO Jack Farrell, and the Farrell family, Haskell's continues to be at the forefront of the wine scene throughout the world. Haskell's also can ship wine, beer & spirits all throughout the world, the U.S. and we deliver locally.