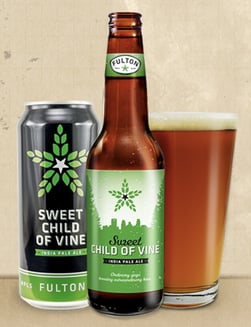 The story of Fulton Brewing has humble beginnings, much like a garage rock band. In fact, it did begin in a garage. The story goes that four Minneapolis home-brewers created recipes in a garage back in 2009, and six years later, these guys are now creating some extraordinary craft beers you can find on our shelves. Congratulations to Peter Grande, Brian Hoffman, Jim Diley, and Ryan Petz – the brewers behind Fulton Beer.
And now they're ready for something really special. General Mills – yes, the Kings of Breakfast Cereal, is teaming up with the Fulton Brewery guys to produce a first-of-its-kind partnership: HefeWheaties.
Pretty good for starting in a garage.
Your can read more about the partnership in the StarTribune, but that's not all these guys are cooking in their brand new 50,000 square foot production brewery in Northeast Minneapolis.
Year-Round Beers
Seasonal beer
This malty imperial Red Ale topped with Rye will be available September- November, so keep an eye out for this special release.
Hearty Russian Imperial available December – February. This says drink me while sitting near the fireplace while wearing flannel and slippers.
A Rye Saison that bids farewell to winter and hello to a new season.
Summer Saison available June – August. This crisp brew says Minnesota summer.
Of course, these guys are always crafting something new in their lab. Minnesota's craft beer revolution keeps marching on and we're all a bit happier for all these hops. Great job guys.
And, if you can't make it into one of our Haskell's locations, you can buy beer here 24/7, or get your favorite craft beer delivered right away with the touch of an app thanks to our partnership with Drizly.
Founded in 1934, Haskell's has championed fine wines for over 80 years. We have 13 wine stores in Minnesota, two delis and one restaurant. As one of the top wine shops in North America, Haskell's is known for legendary service and one of the finest collections of wine, beer and spirits. Led by Chairman and CEO Jack Farrell, and the Farrell family, Haskell's continues to be at the forefront of the wine scene throughout the world. Haskell's also can ship wine, beer & spirits all throughout the world, the U.S. and we deliver locally.