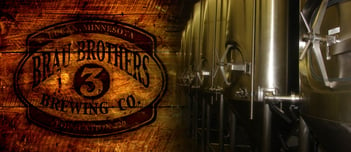 With a last name like Brau (German for beer), it only seems predestined for a Southwestern Minnesota family to craft some serious beer. From the tiny town of Lucan (population 220) the brothers Brau birthed their namesake – Brau Brothers Brewing Co. – and they've been crafting some excellent suds. Their popularity and growth helped spur a move from Lucan to Marshall, MN, where they've opened an impressive taproom. In fact, in 2014, the Star Tribune named Brau Brothers Brewing the best taproom in greater Minnesota. Cheers to that.
Dustin Brau is head brewer for the company that's dedicated to brewing an all-malt lineup of beers. On top of that, they grow their own hops. Dustin and his brothers (plus dad and family) have some impressive offerings, including the exquisite MooJoos Oatmeal Milk Stout, ­made with locally sourced milk. Think creamy, chocolate, malty ….yeah, it's good. It's really good. And, for those who prefer heavy on the hops, pick up the hop-heavy Sheephead Ale. You'll thank us.
The Brau Brothers have good beer. Fun names. Here's what's brewing:
Need another reason to check out Marshall, MN? How about the free annual Brau Brothers Brewing Hop Fest on Sept. 11-12.
Stop by any of our Haskell's locations for a cold six-pack or two. We proudly carry many local craft beers where "Made is Minnesota" means great drinking. We'll toast to that.
Founded in 1934, Haskell's has championed fine wines for over 80 years. We have 13 wine stores in Minnesota, two delis and one restaurant. As one of the top wine shops in North America, Haskell's is known for legendary service and one of the finest collections of wine, beer and spirits. Led by Chairman and CEO Jack Farrell, and the Farrell family, Haskell's continues to be at the forefront of the wine scene throughout the world. Haskell's also can ship wine, beer & spirits all throughout the world, the U.S. and we deliver locally.