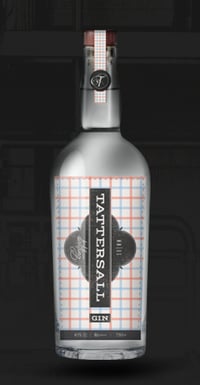 If you are a fan of craft cocktails, there is a good chance you've already tipped back some of the toast-worthy gin, vodka, and an aquavit from Tattersall Distilling. The Northeast cocktail room has only been opened a year and it has already garnered accolades including "Best Distillery" by the StarTribune.
At Haskell's, we have been proudly carrying these local libations so you can craft your own version of the killer cocktails you've had around town. You might be surprised to learn that the majority of Tattersall's offerings are specialty liqueurs.
Tattersall Distilling Spirits:
Gin – It's their flagship with 22 botanicals in their recipe.
Barreled Gin – Their gin conditioned in French oak white wine barrels. Sipping gin.
Aquavit – Think of it as Scandinavian gin – that's their advice.
Vodka – Small batch, triple filtered, made from Minnesota corn.
Bootleg Bourbon – Aged in Kentucky, bottled in Minneapolis.
White Whiskey – Punch-packing whiskey made from Midwestern corn.
Choke Cherry Gin – A unique, seasonal spirit
Applejack – Seasonal spirit
Orange Crema – An orange liqueur to use in place of triple sec, for instance.
Grapefruit Crema – A zesty grapefruit liqueur, also used in place of trip sec.
Sour Cherry Liqueur – Intense taste of Montmorency cherries, aged in American oak barrels.
Bitter Orange – Just what you'd think – spicy, citrus liqueur. Recommended in a Negroni and other cocktails.
Crème De Fleur – A flowery mixture in this floral, sweet liqueur.
Crème De Cacao– You've been waiting for this. Smooth chocolate flavors ready to sip and savor.
Absinthe – Anise, wormwood, and fennel. It's complicated and delicious.
Amaro – What to sip after a superb supper? This after-dinner digestive.
Fernet – Not sure what it is? Be curious. More than 30 botanicals, spices, and herbs. (It's an Italian type of Amaro, or bitter herbal liqueur).
Enjoy these Tattersall recipes to create your own craft cocktails:
Clover Club Cocktail
Ingredients:
2 ounces Tattersall Gin
¾ ounce lemon juice
½ ounce raspberry syrup
1 egg white
In a shaker with ice, add ingredients. Shake vigorously and strain into a cocktail glass.
Aquavit Gimlet
Ingredients:
2 ounces Tattersall Aquavit
¾ ounce lime juice
¾ ounce simple syrup
In a shaker with ice, add ingredients. Shake vigorously and strain over a lowball filled with ice.
Moscow Mule
Ingredients:
1 ½ ounces Tattersall Vodka
½ ounce lime juice
4 ounces ginger beer (preferably spicy)
In a highball filled with ice, add ingredients.