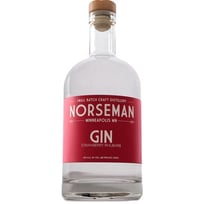 It makes sense that Minneapolis' first micro-distillery would pay homage to the legend of the Northwood lumberjacks (and the Norsemen that many of those fellows were). What we like about the small batch craft distillery are the spirits Norseman Distillery produces in Northeast Minneapolis. Focused on producing premium vodka, gin, and rum in small batches, this happening local distillery has received national kudos. The Strawberry Rhubarb Gin was called "special" in Bon Appetit, and we think so too.

Here's the Norseman Distillery's current lineup:

Norseman Rum Aged in a Whiskey Barrel — Smooth, silky fresh oak flavors.

Norseman Organic White Rum — Sip it or mix it, we're sure you'll enjoy it.
Norseman Small Batch Vodka — A Minnesota made vodka from farm to bottle.

Norseman Strength Gin — At 116 proof, it won't get lost in a crowd.

Norseman Strawberry Rhubarb Gin — Could it be more Minnesotan? It's a limited run, so grab it and drink it while you can.

Norseman Vapor-Infused Gin — Norseman Vodka infused with 100% organic botanicals, including Juniper, coriander, vanilla, and citrus.

The Norseman Distillery's cocktail room has become a popular destination hotspot and a great place to try before you buy. Open six days a week with rotating food trucks stopping by, these folks not only love great spirits, but pay attention to their own animal spirit. They hosted a pet adoption event this summer. What's not to love?
Norseman Distillery Cocktail Recipes:
Swampwater Cocktail, Norseman Style

Ingredients:
2 oz. Green Chartreuse

1½ oz. pineapple juice

¾ oz. lime juice
Assemble all ingredients in a Collins glass filled with shaved or crushed ice. Stir gently to combine, and top with additional ice to fill the glass. Serve with a straw.

The Dark Storm

Ingredients:
1

¾

oz. Norseman Rum

2/3 ounce lime juice

Scant

½

oz. simple syrup (2:1)

1 teaspoon allspice dram

Ginger beer
Pour the first four ingredients into a Collins glass. Fill the glass with ice and stir lightly, just to combine. Top with ginger beer.

Haskell's is your home for Made in Minnesota spirits right here at any of our Haskell's locations. SKOL!

Founded in 1934, Haskell's has championed fine wines for over 80 years. We have several wine stores in Minnesota, two delis and one restaurant. As one of the top wine shops in North America, Haskell's is known for legendary service and one of the finest collections of wine, beer and spirits. Led by Chairman and CEO Jack Farrell, and the Farrell family, Haskell's continues to be at the forefront of the wine scene throughout the world. Haskell's also can ship wine, beer & spirits all throughout the world, the U.S. and we deliver locally.