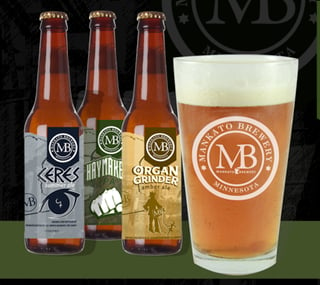 With so many craft beers from which to choose, where do you start? Easy. Go with local. Minnesota has some terrific beer producers brewing everything from traditional to exploring regional flavors.
More than 100 years ago, nearly a dozen breweries could be found in the Mankato area, but the last one – the Mankato Brewing Company – closed its doors nearly 50 years ago, in 1967. That's until 2012, when Mankato Brewery started beer production.
In Mankato, it's all about experiencing the local flavor. And, three cheers to Mankato Brewery for bringing back locally produced beer to the community — and the legendary and beloved Kato Beer.
What's Brewing in Mankato
Kato Lager - The beer that pays homage to its past and community. Munich Helles Style Lager brewed in the German tradition.
ABV 5.0%
Kato Black Label Beer – German Style Black Lager.
ABV 4.4%
Organ Grinder Amber Ale - American Amber Ale with rich malt flavor.
ABV 5.6 %
Haymaker IPA – Named one of the Best Minnesota IPAs. This brew packs a punch.
ABV 6.8%
Duly Noted – American Pale Ale for those who love hops.
ABV 5.4 %
For more on Mankato Brewery, check out their video.
You can find sample packs of Mankato Brewery on our shelves and if you are in Mankato, you can check out their taproom located on Center Street just off of Hwy 169 in Lower North Mankato, Minnesota.
Founded in 1934, Haskell's has championed fine wines for over 80 years. We have 13 wine stores in Minnesota, two delis and one restaurant. As one of the top wine shops in North America, Haskell's is known for legendary service and one of the finest collections of wine, beer and spirits. Led by Chairman and CEO Jack Farrell, and the Farrell family, Haskell's continues to be at the forefront of the wine scene throughout the world. Haskell's also can ship wine, beer & spirits all throughout the world, the U.S. and we deliver locally.