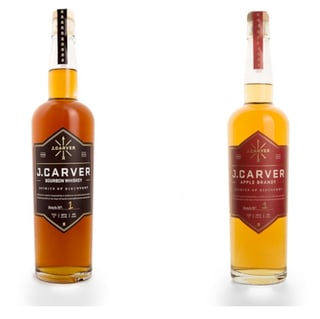 Drive about 35 miles southwest of the Twin Cities and you'll find a town of 10,697 with a number of buildings on the National Register of Historic Places. It's a quaint town, by all means, but what Waconia has to offer besides its history, is a booming wine, craft beer, and distillery business. Enter J. Carver Distillery, named after pioneer and frontiersman Jonathan Carver – Carver County's namesake.
Gin, vodka, bourbon, whiskey…..that's all on the growing list of spirits being crafted at the J. Carver Distillery.
They call their gin "a whiskey lover's gin," perhaps due to the fact that it starts with batches of gin 'resting' in Minnesota-made virgin bourbon barrels for just weeks to months, depending on the maturity of flavors, with constant monitoring for progress and adjusting of botanicals. Even the hue of the gin is unique: medium amber rather than clear.
Minnesota's winter wheat makes J. Carver's 100 percent wheat vodka a standout. Smooth. Clean. Perfect for a classic cocktail heading. After all, we are now entering gin and vodka season.
Minnesota farmers are a significant producer of rye, and J. Carver Distillery is putting out some fantastic local rye whiskey. It's made with 70 percent local rye from Clear Lake, Minnesota, and 30 percent corn selected from local farms close to the distillery in Waconia. 92 proof.
The bourbon has a mash bill of 75 percent corn and 25 percent rye grown on farms near the distillery. With the sweetness of the corn and tinge of spice from the rye, it's a perfect bourbon for on the rocks or in your favorite cocktail.
Recipes:
Carver Bourbon Whiskey Ginger Old Fashioned
Ingredients:
2 ounces J. Carver Bourbon Whiskey
½ ounce Ginger Simple Syrup
3 dashes bitters Jamaican #1
Shake and strain in a chilled martini glass or serve over ice in a lowball glass. Garnish with an orange slice and a bourbon cherry. Enjoy straight up or on the rocks
Grimm Farm Bees Knees with Gin
Ingredients:
2 ounces J. Carver Grimm Farm Gin
3/4 ounce lavender honey simple syrup
1/2 ounce freshly squeezed lemon juice
Carver Vodka Bootlegger
Ingredients:
2 ounces J. Carver Premium Vodka
1 ounce simple syrup
3/4 ounce fresh lemon juice
3/4 ounce fresh lime juice
4 mint leaves
Discover what you love by checking out the distillery yourself. Tours and tastings are available. Or, stock up at any of our Haskell's locations. We are proud to carry so many Made in Minnesota products, like the terrific bottlings from J. Carver Distillery.