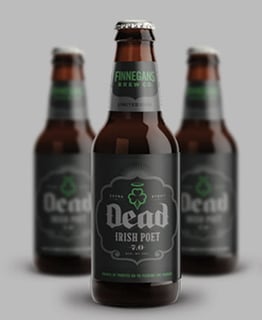 This local company has been fueling – and feeding – the community for more than a dozen years. In fact, the company's motto is "Turning beer into food." But if you aren't familiar with this fine Minnesota beer, grab a Finnegans and we'll try to explain.
History of Charity
You might know and love their Irish Amber Ale that started it all. But did you know this is also that beer that started a movement? Founder Jacquie Berglund is credited for bringing her global thinking and working locally to make a difference in our own community. This beer company gives 100 percent of its profits to charity to help fund food shelves and feed the hungry.
In 2014, the socially-minded organization launched a reverse food truck that took in donations rather that serving food. Here they "don't make food, they take food."
This year the big news this year is that Finnegan's — which has partnered with Summit Brewing to produce its beers — may have plans to open its own microbrewery downtown Minneapolis.
Finnegan's Beer Offerings
Dead Irish Poet — 7.0 ABV
You bet this is a deep brew. This extra stout is described as dark, complex and perfect for "an Irish Wake."
Irish Amber — 4.75 ABV
Full-flavored. Here's a perfect balance of yeast, hops, and malted barley.
Blonde Ale — 4.60 ABV
Crisp, clean and pairs well with a sunny day.
We're pretty proud to offer Finnegan's finest at all of our Haskell's locations. We toast Jacqueline and her entire team for making a difference.
And, while we're at it. How about a little trivia? Did you know women have a storied history in beer making? Thanks to organizations like the Pink Boots Society, of which Jacqueline is a member, more women beer professionals are being empowered to advance their careers in the beer industry. The local Twin Cities chapter was recently launched.
Founded in 1934, Haskell's has championed fine wines for over 80 years. We have 13 wine stores in Minnesota, two delis and one restaurant. As one of the top wine shops in North America, Haskell's is known for legendary service and one of the finest collections of wine, beer and spirits. Led by Chairman and CEO Jack Farrell, and the Farrell family, Haskell's continues to be at the forefront of the wine scene throughout the world. Haskell's also can ship wine, beer & spirits all throughout the world, the U.S. and we deliver locally.