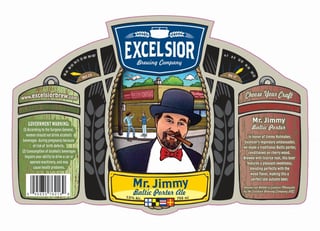 Lake Life: It's a lifestyle and tradition many Minnesotans aspire to pursue and enjoy, and perhaps none so much as those who enjoy the rich history of Lake Minnesota and Excelsior. So, it comes as no surprise that a brewery was designed and beer was crafted to honor that tradition — smack dab in the middle of the town of Excelsior — the Excelsior Brewing Company. After all, beer made in Minnesota is all about tradition.
This locally-based, employee-owned brewery opened its doors in the summer of 2012 with a 3,000-square foot facility offering pint sales and growlers. Now, you can find them stocked in our coolers at any of our Haskell's locations around the Twin Cities metro.
Let's get to what's important – the beer. Here's the lowdown on what's brewing with the Excelsior Brewing Company.
This Blond Ale is a light-bodied everyday ale. Need more sun now that's getting dark longer? Here you go. 5.5% ABV
A medium-bodied Munich-style brown ale great for tackling while watching the game. 6.5% ABV
A light German wheat ale brewed with coriander and sea salt. A lazy afternoon, a favorite fishing hole and a classic beer.
Love hops? Here you go. This India Pale Ale goes great with spice. 7.5% ABV
An American Pale Ale with malty goodness. Call this your burger beer. 5.8% ABV
The seasonal brew available now. It's got character – much like the legendary Excelsior ambassador, Mr. Jimmy himself. 7.5% ABV
Oh, if you want to check out the town, the beer, and help out a great cause, the ICA Food Shelf, head to the Excelsior Brewing Company on December 13 from 10am-5pm for it's Holiday Craft and Vendor Fair.
Founded in 1934, Haskell's has championed fine wines for over 80 years. We have 13 wine stores in Minnesota, two delis and one restaurant. As one of the top wine shops in North America, Haskell's is known for legendary service and one of the finest collections of wine, beer and spirits. Led by Chairman and CEO Jack Farrell, and the Farrell family, Haskell's continues to be at the forefront of the wine scene throughout the world. Haskell's also can ship wine, beer & spirits all throughout the world, the U.S. and we deliver locally.