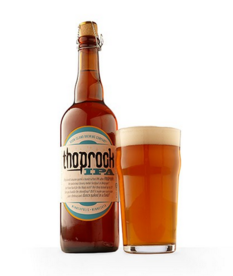 While no longer an actual island, Boom Island once played an important role in Minnesota's logging industry on the Mississippi River — as home to a log sorting station. What does that have to do with beer? Well, just a hop away in Northeast Minneapolis is Boom Island Brewing, where brewmaster Kevin Welch and his team are producing Belgian-style beers.
The family-owned brewery opened in late 2011, moved to a larger space, and early last year opened a taproom. They make it quite clear, and state it right on their website - this is a brewery that obsessively and elusively focuses on Belgian-style beers. Three cheers to that.
So, what are they brewing? Let's get to the main event – the ales.
Thoprock India Pale Ale: Belgian-style IPA. Hoppy goodness. 8.0% ABV
Hoodoo Dubbel: Smooth, rich, malty with low hops, tons of flavor. 8.5% ABV
Witness: Easy drinking blond Belgian-style Witbier. 5.0% ABV
Brimstone Tripel: Light-colored classic Belgian-style Tripel. It's fruity, and high in alcohol content. 9.5% ABV
Yule: Seasonal holiday ale brewed with spices. 11.5% ABV
Speaking of holidays, make it easy and fun by keeping it all made in Minnesota. Stop by any of our Haskell's locations for Minnesota-brewed beers, wines, and spirits. We're happy to help with gift baskets as well.
New Year's Eve plans? For some of us, early plans are the best plans, and the folks at Boom Island Brewing are hosting an early bird bash at their taproom, December 31 from 4-9 pm. Check it out.
Of course, if you want to stay in and host your own party, we can bring the beer, wine, and bubbles right to you. Order with the Drizly app.
Founded in 1934, Haskell's has championed fine wines for over 80 years. We have 13 wine stores in Minnesota, two delis and one restaurant. As one of the top wine shops in North America, Haskell's is known for legendary service and one of the finest collections of wine, beer and spirits. Led by Chairman and CEO Jack Farrell, and the Farrell family, Haskell's continues to be at the forefront of the wine scene throughout the world. Haskell's also can ship wine, beer & spirits all throughout the world, the U.S. and we deliver locally.