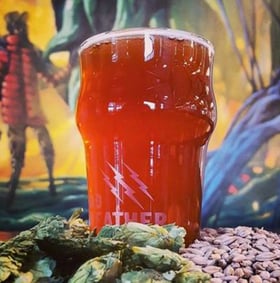 The weather. It gives even the quietest Minnesotans something to talk about. But in St. Paul, it's the Bad Weather – as in Bad Weather Brewing – that has beer lovers talking. The 7th Street Brewery and Taproom is a hot spot in the Capital City, with a lineup of great seasonal beers and rotating food trucks bringing a sense of the unpredictable that is, indeed, like the Minnesota weather.
WINDVANE – Red IPA
Bad Weather Brewing's flagship beer is a four season IPA. No need to worry about high winds, humidity, or hot flashes.
ABV: 6.0% 
Malts: American & British Pale, Caramel, Roasted, Belgian
The HOPCROMANCER – American IPA
Pours gold with a thick white head.
ABV: 7.0% Malts: American & British Pale, Oats, & Caramel
SUN PILLAR – Belgian Blonde
Perfect for sunny days.
ABV: 5.1%
The beer isn't the only thing that's created locally. So is the dreamy artwork gracing the cans by illustrator, Lucas Gluesenkamp.
Oh, the folks at Bad Weather Brewing also produce a couple of nice sodas.
Join us in supporting all of our great Made in Minnesota beers, wines, and spirits. Stop by any of our stores to get your fill.
Just three years old, Bad Weather Brewing has hit a homerun. Great location, ever-changing seasonal beer, and an atmosphere that seems to always have fun – along with beer – on tap. So, what's IS brewing at Bad Weather?