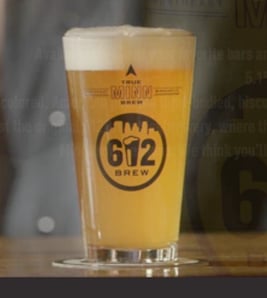 612 undoubtedly says Minneapolis. It's the telephone prefix that separates the state's largest city from the rest. And, at 612Brew, it is easy to see Minneapolis reflected in its massive industrial taproom and brewhouse.
Recently, 612Brew celebrated its 3rd anniversary. The popular Northeast Minneapolis taproom quickly became a taproom favorite when it opened its doors three years ago. It's large, inviting and wait for it, has a pup-friendly patio.
Beers. Pups. Good times. Like many of the area's taprooms, local food trucks set up while beer is being served.
Here's the 411 on 612:
SIX – American Pale Ale, described as light-bodied, biscuit-flavored with a light hop aroma. They say it's named after the local bus number that runs past the original 612 Brew test brewery. Perfect for spring and summer. 5.1 % ABV
Gateway Park pre-Prohibition lager – This lager pays homage to the city's Gateway District, using ingredients commonly use in this style beer one-hundred years ago. Now, you have that taste but freshly brewed. 5.6 % ABV
Unrated Rye IPA – If you love a hoppy IPA, here you go. Described as "West Coast IPA meets Midwest Rye." Full bodied. 6.9% ABV
Based on a true story: Before it became "Unrated Rye," the 612 IPA was simply known as "Rated R." That's until 612Brew received a cease and desist letter threatening legal action in a trademark dispute with the Motion Picture Association of America (MPAA) – the folks who rate movies (you know, G, PG, and R). But a lawsuit was averted when the name was changed to protect the innocent.
You don't have to live in Minneapolis to enjoy this made in Minnesota beer. You can pick up a six-pack of these three 612 brews in cans: Unrated Rye, SIX and Gateway Park at our Haskell's stores, or have it delivered to your door with Drizly.
Founded in 1934, Haskell's has championed fine wines for over 80 years. We have 13 wine stores in Minnesota, two delis and one restaurant. As one of the top wine shops in North America, Haskell's is known for legendary service and one of the finest collections of wine, beer and spirits. Led by Chairman and CEO Jack Farrell, and the Farrell family, Haskell's continues to be at the forefront of the wine scene throughout the world. Haskell's also can ship wine, beer & spirits all throughout the world, the U.S. and we deliver locally.