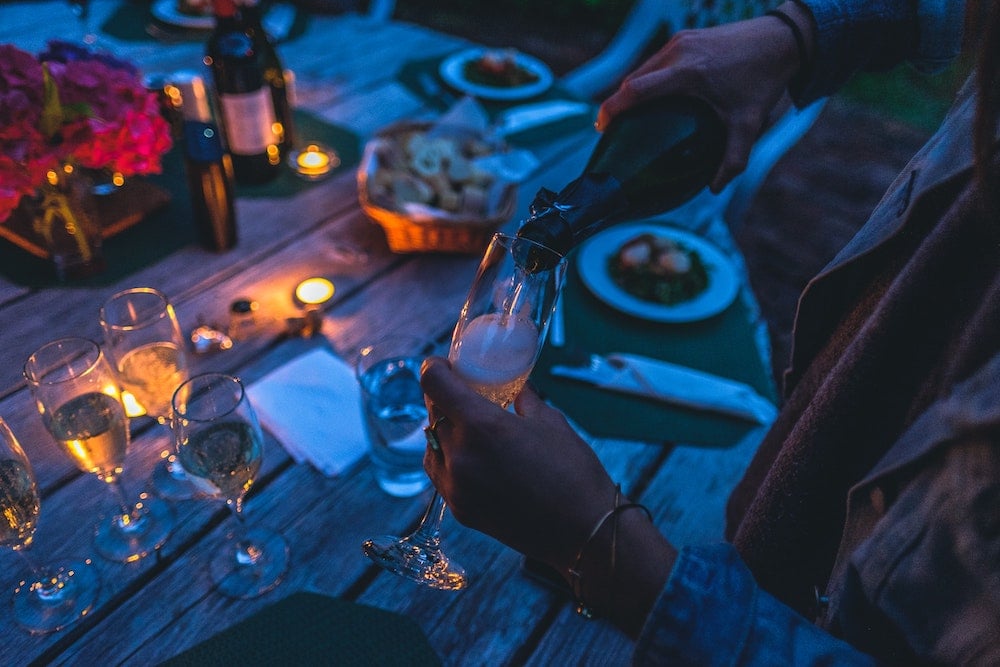 If you are looking for low-calorie, low-alcohol and low-carb beverages to enjoy with your friends and family, you are in luck. The beverage industry has responded to demand for options beyond "a glass of wine a day" to stay active and healthy. In fact, hard seltzers alone grew from around $50 million in 2016 to a projected $2.5 billion by the end of 2021.
There are many options to keep your fitness and health goals without sacrificing your summer social life. You can enjoy wine, a cocktail, beer, or a non-alcoholic beverage with flavor and notes that rival the real thing. It's about less sacrifice and more flavor.
Wine: You guessed it -- sweeter wine means more sugar
Although the sweet wines may sound more refreshing during the summer months, those refreshing wines may also contain more sugar. If you want to keep the sugar and calories lower, chances are that dry wines will be your best bet.

White wine: Pinot Grigio and Chardonnay are two drier wines that tend to have less residual sugar remaining after the fermentation process. These will likely have less sugar than Chenin Blanc, Riesling or dessert wines.
Red wine: Pinot Noir, Cabernet Sauvignon and Merlot over Zinfandels or Grenaches.
Sparkling wine: Dry, Brut Prosecco typically has less sugar than champagne, and it helps that it is usually a bit less expensive.
Beer:
Low

calorie by ales, IPAs and more

Aside from some key low-carb beers, you may find Guinness Draught, at 4.2% alcohol has 125 calories in 12 ounces, is not as heavy and dark as you may think. Founders All-Day IPA is a lower calorie ale, and if you're looking for gluten-free beer, Glutenberg has a variety of options.
Cocktails: Margherita alternative; vodka alternatives
The main trick to making and ordering light cocktails is taking your favorite recipes, removing the sugar and extras, and letting the main ingredients shine.
For instance, to make a low-calorie margherita, instead of a sharp, sweet and syrupy margherita, you could mix a silver or blanco tequila, add soda water and squeeze in plenty of fresh lime juice or add just a little simple syrup.
You can also adjust other common recipes, such as the bloody mary and mojito to ease the calorie count. The key is to identify ingredients that pack a lot of calories and replace them with naturally sweet, low-calorie options. The star of the bellini, the peach, has only 60 calories. Pureed and mixed with champagne, and you have yourself a low-calorie, refreshing beverage.
Many of our Minnesota favorites have fresh fruit and a couple of heavier ingredients you could skip, such as the strawberry syrup in the strawberry mimosa. And if you want to craft your own fruit-based, summer cocktail, you can check all of your calorie counts on this FDA chart.
Hard seltzer
Hard seltzers have become popular, especially in the summer, with many Minnesota breweries stocking shelves with their own varietals. A national brand, like Truly, has 100 calories per can. Not all breweries have to list nutritional information on their cans, but they may list the ingredients.
You can drink local, too. Just as the craft beer scene has boomed, their canning machines are now lined up with hard seltzer, such as Minneapolis' Fulton and Stillwater's Lift Bridge, are hitting the shelves.
Non-alcoholic beverages
In the past, if you wanted to relax with a beverage or share one with your friends while avoiding the alcohol content, your main non-alcoholic options were generally limited to NA beer. That's no longer the case. An increased awareness of healthy habits has logically progressed to an increased demand for non-alcoholic drinks for anyone at any occasion.
This has led to not only an expansion on the NA beer front with more breweries making non-alcoholic options, but you can find NA wine, create an NA cocktail with mixers, and even find "hard" soda water brands with an NA option.
Non-alcoholic Hard Alcohol?
Yup, it is an actual thing. Distilled spirits with the alcohol removed. Check out Seedlip. As their website states "Seedlip is on a mission to change the way the world drinks." Those that want a cocktail, but do not want the booze, we have something for you.
Your options are almost endless for low-calorie beverages
The world is wising up to the benefits of responsible food and beverage choices, and that has expanded to the beverage industry. Whether you're attending or hosting a party, kicking back and relaxing after a long day, or looking to have a glass with your friends without limiting your options, you can find something on the shelf that hits the spot.