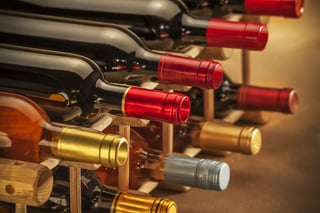 If you are gluten intolerant or suffer from celiac disease, you'll likely have questions about whether wine— including sparkling wines and champagnes —are safe for you to drink. Well, we have good news. Mostly. Wine is gluten free. Most people who are gluten intolerant should be able to consume wine without any symptoms. However, with that said, there is an exception to the rule, and those with celiac disease or severe sensitivity may find some wines cause an adverse reaction. So, read on for the complete answer to the question, "is wine gluten free?"
First, wine is made from grapes, and grapes do not contain gluten.
That's the good news. The cautionary news is that the aging process may introduce tiny particles of gluten if the winemaker uses a flour or wheat paste to seal oak barrels. Desert wines may have traces of gluten if winemakers add coloring or flavoring.
For those who need to be vigilant, you may find you have a reaction to these miniscule particles, although many folks agree that most wine is relatively safe for celiac disease sufferers.
So, what can you do to be sure your favorite wine is gluten free?
Check to see if the wine is aged in stainless steel casks. Avoid barrel-aged wines, for instance, because flour and wheat paste is only used to seal oak barrels.
Contact the vineyard and ask what fining agents they use.
Stick to a wine you already know works for you.
Have more questions about gluten in your favorite cocktails?
Check out this list of gluten-free beer, gluten-free hard cider, gluten-free wine coolers, gluten-free rum, gluten-free gin, gluten-free sake, gluten-free tequila, gluten-free whiskey, mixers and other spirits!
The most important takeaway if you have gluten sensitivity is to find a drink that works and stick to it. And, when in doubt, feel free to ask the staff members at any of our Haskell's stores to find a stainless steel aged wine that will help you keep gluten at a distance.
Founded in 1934, Haskell's has championed fine wines for over 80 years. We have 13 wine stores in Minnesota, two delis and one restaurant. As one of the top wine shops in North America, Haskell's is known for legendary service and one of the finest collections of wine, beer and spirits. Led by Chairman and CEO Jack Farrell, and the Farrell family, Haskell's continues to be at the forefront of the wine scene throughout the world. Haskell's also can ship wine, beer & spirits all throughout the world, the U.S. and we deliver locally.