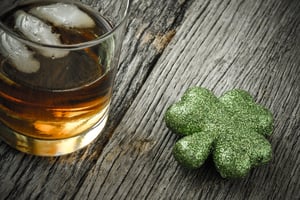 What happens if you've had your fill of green beer and busy nightlife for a while, but you still want to celebrate St. Patrick's Day this week? What better way to celebrate than to settle into a quiet corner of an Irish-inspired dark bar or, even more relaxing, in your favorite chair at home with a glass of Irish whiskey.
Of course, not everyone chooses whiskey for the occasion. Is it because they're confused whether to spell it whiskey or whisky (and is there a difference beyond the spelling)? Drink it neat or mixed in a cocktail. Whatever you prefer! Here are three ways to enjoy the straightforward spirit and three ways to mix Irish whiskey in a cocktail.
Neat, Water, or Ice? 3 Ways to Savor Irish Whiskey
Pick your glass for drinking Irish whiskey. Start with a vessel that looks good and feels good in your hand. The most common is the rocks glass, also known as a lowball or Old Fashioned glass. For the elite whiskey sipper, a small tulip glass will accentuate the aroma for maximum flavor notes.
The next big question is what format you want to enjoy the pure flavor of the Irish whiskey. There are three main options:
Neat – As is, in the glass, to get the unmistakable version the whiskey-maker intended.
Water – Add a drop or three of water to let the whiskey calm down a bit. The alcoholic content often feels like a burn when drinking neat, so a splash of water mitigates some of the intensity without compromising character.
Ice – Add a rock (ice) — a big cube or sphere if you can. Those little ice cubes from the fridge will melt much faster and dilute your Irish whiskey. If you want to sip it cold without losing the powerful body of whiskey, use a rock.
If you're looking for something a little more involved, there are plenty of cocktails that highlight a good Irish whiskey. Consider our top three recommendations.
Classic Irish Coffee Recipe
The morning of — or the morning after — St. Patrick's Day, you'll probably want some coffee with that trusty companion, Irish whiskey.
Ingredients:
1–1/3 oz. Irish whiskey
6 oz. coffee (dark roast is ideal)
2 sugar cubes
Whipped heavy cream
How to make a classic Irish coffee:
Fill a 6-ounce glass with hot water and let the glass warm for a minute.
Place the sugar cubes in the glass and add the coffee until the glass is 3/4 full.
Stir well to dissolve the sugar.
Pour 1–1/3 oz. of Irish whiskey in the glass.
Over the back of a spoon, layer the whipped heavy cream on top of the coffee and whiskey mixture.
Black Barrel Old Fashioned Recipe
Get the strength of whiskey alongside a bittersweet fruit note with a Black Barrel Old Fashioned.
Ingredients:
3/4 oz. Benedictine liqueur
2 dashes Angostura bitters
2 dashes orange bitters
Orange slice
How to make a Black Barrel Old Fashioned:
Combine ingredients, except orange slice, in a stirring glass.
Add ice and stir.
Strain the mixture into a rocks glass over a rock (large ice cube).
Add orange slice garnish.
Irish Manhattan Recipe
To elevate your evening, bring a little class to your guests and your moments of relaxing with a velvety, refined Irish Manhattan.
Ingredients:
1/4 cup Irish whiskey
1–1/2 Tbsp. sweet vermouth
1 maraschino cherry for garnish
How to make an Irish Manhattan:
Put ice in a rocks glass.
Pour whiskey and sweet vermouth into glass and stir.
Add maraschino cherry garnish.
No matter which way you drink Irish whiskey, your St. Patrick's Day festivities are sure to suit your mood.