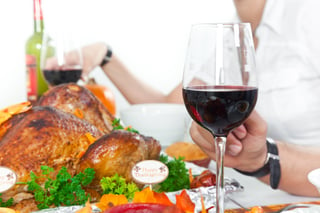 A traditional Thanksgiving dinner – turkey and stuffing, mashed potatoes and gravy, pumpkin pies and whipped cream. Many families know exactly what will be on the dinner plate every holiday. So why not break from tradition and consider changing up what's in your glass? This year, consider some of these impressive Thanksgiving wine pairings for your holiday feast.
Impress your family with any of these exquisite wines that will pair beautifully with your meal, and what a better way to pay a compliment to the chef than offering a perfect wine pairing? Picks from this special list may even earn a nod of approval from your favorite Aunt and Uncle who seem to know every good vintage of Burgundy, Bordeaux and Napa in recorded history. You don't have to be a certified wine geek to impress. We've done the work for you. And then we've added some great picks for under $20, as well.
Thanksgiving Wine Pairings That Will Impress
2011 Volnay Bouchard Caillerets - Pinot Noir, exquisite fruit and spice aromas. On the palate, perfect harmony between structure and elegance: rich, complex and voluptuous. If you want to drop some wine terminology on your relatives, its terroir lends great class to this premier cru. Now on sale for $69.99.
2011 Chateauneuf-du-Pape Vatican Chateau Sixtine - A dense, meaty red that offers up decadent crème de cassis, creamy black raspberry, licorice, toasted spice, and mineral qualities on both the nose and palate. Gaining additional meatiness with air, this full-bodied Châteauneuf-du-Pape has a voluptuous, rich texture and beautiful freshness. Now on sale for $59.99.

2005 Chateau Montrose - Critics called 2005 a perfect vintage, and this wine may prove it. Wine Spectator says, "Black licorice and blackberry aromas, with hints of mineral, lead to a full-bodied palate. Very chewy, with loads of tannins, yet this follows through with beautifully ripe fruit, mineral and mint. Fascinating." We agree. Now available for $139.99 (a $30 savings).
2012 Beaune L'enfant Jesus Bouchchard - Intense, divine Pinot Noir that keeps getting better. 93 points by Wine Spectator. Jack even did a Quick Pours video about it! Save money, gain Pinot Noir cred. On sale for $99.99.

2008 Barolo Oberto Brunate - Experience the silky sexiness of this Italian wine. Some call it stunning. Drinking beautifully now and at a great price. On sale for $79.99.
2008 Domenico Clerico 'Ciabot Mentin' Barolo - Often referred to as the King of Italian wines, this wine will make your family feel like royalty. Open, decant, enjoy in that order. On sale for $89.99.
2005 Cliff Lede Cabernet Sauvignon - Perhaps roast pheasant is on the menu? This Stags Leap District Cabernet Sauvignon that opens with initial scents of rich raspberry, fig compote, nutmeg, cinnamon, and cardamom will bring some American spirit. Great deal at $59.99.

2012 Dominus Christian Moueix - A highly acclaimed wine from another great vintage, and hard to find elsewhere. Wine Spectator gives it a 98+ rating and says, "It is full-bodied and opulent, with no hard edges, a seamless integration of acidity, wood, and tannin, and a density and richness that are built to go on for 25-30 years." You'll do more than impress your family's wine snob, you've just earned deep respect. $169.99 on sale.
Picks for under $20

— Priced to Bring a Few Bottles to Dinner
Wildstock Willamette Pinot Noir - The Willamette region of Oregon is renowned for its Pinot Noirs and this one is to know. Redolent of fresh ripe cherries and strawberries, with lithe, elegant yet robust Pinot-berry flavors that glide over the palate seamlessly. (Pro Tip: Willamette is pronounced like "damn it"). On sale and ready to drink. $19.99

La Forge Estate Carbernet Sauvignon - Here's a reminder that a terrific wine can be found for under $15. This French wine from the Languedoc region has intense scents of red berries, red pepper, and tobacco notes underlined with cocoa and spicy vanilla aromas. Now on sale for $12.99 a bottle.
2012 Chateau Clare - A lovely Bordeaux that won't set you back and will bring plenty of cheers. Only $12.99 on sale.
Now, all you need to say is "I'll bring the wine" and bring out this list. We're happy to assist.