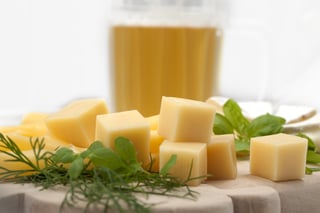 Beer and cheese are easy to enjoy alone, but even better together. Whether it's for date night, game night, or a simple get-together, we've gathered a six-pack of recipes you will want to make over and over — and we think your guests will too. We'll always have room for cold ale and a chaser of sliced cheese, but these recipes are worth the extra time and effort.
Waffles, dip, fries and more! A full six-pack of beer and cheese recipes you need.
Ingredients:
1 ounce prosciutto
1 1/4 cup all-purpose flour
3/4 cup whole wheat flour
2 tablespoons sugar
2 eggs, beaten
12 ounces beer
4 tablespoons unsalted butter, melted and cooled
2 cups shredded cheddar (about 3 ounces)
Sour cream
Chives
Crisp prosciutto by baking it on a parchment-lined baking sheet at 375°F for 10 minutes. Set aside on a paper towel to drain. Whisk together flours and sugar in a large bowl. Whisk in eggs, beer, and butter, then stir in cheddar. Let batter rest for 30 minutes. Preheat waffle maker and cook according to manufacturer's instructions. Top waffles with sour cream, chives, and crumbled prosciutto.
Ingredients:
2 tablespoons unsalted butter
3 tablespoons all-purpose flour
1/2 cup milk
3/4 cup ale or darker beer
1 teaspoon dry mustard, such as Colman's
2 teaspoon Worcestershire sauce
Hot sauce, to taste
12 ounces sharp cheddar cheese, grated
Kosher salt and freshly ground pepper, to taste
Toast points, crostini, and crudités for serving
In a saucepan over medium heat, melt the butter. Add the flour and cook, stirring constantly, for 2 minutes. Slowly whisk in the milk and beer, increase the heat to medium-high and bring the mixture to a simmer. Add the mustard, Worcestershire, and hot sauce and cook, whisking occasionally, until the mixture begins to thicken, 3 to 5 minutes. 

Working in batches, add the cheese in large handfuls, whisking until each batch has completely melted before adding more. Season with salt and pepper. Serve immediately with toast points, crostini, and crudités for dipping. Makes about 2 cups.
Beer cheese sauce:

3 tablespoons. butter
3 tablespoons flour
1 cup beer (I used a pilsner)
1/2 cup milk
6 ounces Monterey Jack cheese, finely shredded
4 ounces cup pepper jack cheese, finely shredded
1/4 cup Frank's red hot sauce
1/2 teaspoon salt and 1/2 teaspoon black pepper
The fries:

1 (16 ounce) bag frozen French fries
1/2 cup chopped green onions
1/4 cup crumbled blue cheese
1/4 cup fresh cilantro, chopped
Cook the French fries according to package directions. Try to get them as crispy as possible to avoid them getting too soggy! While the fries cook, make the beer cheese sauce: Over medium heat, melt the butter in a medium saucepan. Whisk in the flour and continue to whisk for 2-3 minutes until the flour is fully incorporated, the mixture is smooth and slightly golden brown. Add in the beer and milk and whisk until the mixture begins to thicken. Reduce the heat to the lowest possible setting. Add the hot sauce, stir in the cheese, and season to taste with salt and pepper. Stir occasionally while assembling the fries. Layer the fries on a plate or platter. Drizzle about half of the beer cheese sauce over the cooked fries Add a layer of green onion, blue cheese, cilantro. Serve with additional beer-cheese sauce for dipping. 
This recipe is easily doubled to serve a large crowd. Try adding some cooked, shredded chicken to the top of the sauce as well.
Ingredients:
2 1/2 cups, shredded sharp Cheddar, available on dairy aisle
4 to 6 ounces, Gruyere, shredded
1 rounded tablespoon all-purpose flour
1 cup German lager beer
2 tablespoons spicy brown mustard
A few drops hot sauce
A few drops Worcestershire sauce
Combine cheeses in a bowl with flour. Add beer to a small pot and bring up to a bubble over medium heat. Reduce the heat to simmer and add cheese in handfuls. Stir constantly, melting the cheese in batches. Stir in a figure-eight pattern with wooden spoon. When the cheese has been incorporated fully, stir in the mustard, hot sauce, and Worcestershire sauce. Transfer fondue to warm fondue pot.

In a large skillet, bring 2-inches of water to a boil and blanch the cauliflower for 2 to 3 minutes, drain and arrange around the fondue pot.

In the same pan, bring the cooking water back to a boil and add the mini franks and sliced wursts. Cook, uncovered until all the liquid has evaporated. Add 1 tablespoon butter to the pan to crisp the casings. Pile wursts and dogs near fondue. Complete the dipping selections with dishes of pickles, onions and cubed bread.

Ingredients:
12 ounces cream cheese
4 cup shredded Cheddar
6 ounces Guinness
Fresh chives, for garnish
Pretzel bites, for serving
In a mini slow cooker, combine cream cheese, cheddar, and Guinness. Cover and cook on low, stirring well every 10 minutes, until warmed through and creamy, about 1 hour. Garnish with chives and serve with pretzel bites.
Ingredients:
2 large heads of garlic
2 tablespoons olive oil
12 ounces cream cheese
1 1/2 cup Parmesan cheese, plus an additional 1/4 cup for top
6 ounces smoked Gouda or smoked mozzarella cheese
1 cup Saison or IPA beer
1 teaspoons red chili sauce (such as Sriracha)
1/2 teaspoons salt
1/2 teaspoons pepper
1 tablespoons cornstarch (very important. Keeps the dip from separating)
1/4 cup chopped scallions (green onions)
Preheat oven to 425. Cut the tip of each head garlic off, just enough to expose all of the cloves. Place each head on a separate piece of tin foil. Drizzle with olive oil and seal the foil around the garlic. Place both garlic packets on a baking sheet or baking dish. Roast in the oven for 30 minutes. Remove from oven and allow to cool. Reduce oven temp to 350. In a food processor, add the cream cheese, 1 1/2 cup Parmesan gouda, beer, red chili sauce, salt, pepper and corn starch. Squeeze the roasted heads of garlic until the soft cloves come out, add the roasted cloves to the food processor, taking care that none of the papery garlic skin is added to the food processor. Discard the empty garlic head. Process until well combined. Add to a baking dish, top with the remaining 1/4 cup cheese. Bake at 350 until melted and the top has started to turn a light golden brown, about 35-40 minutes. Remove from oven, top with green onions, serve warm.

You know we have all the beer, but did you know we also have all the cheese? Visit the Big Cheese shop and pick up the cheese while you pick up the beer. Cheers.