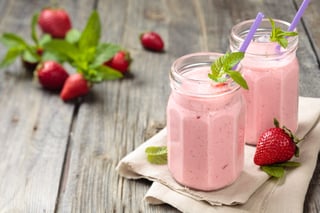 It's time to put away the hot chocolate and think about cold, frothy floats and creamy, smooth milkshakes. And, as an adult, you are now able to go all-out and create the milkshakes your Mother never told you about (but if you were really lucky, she may have given you a sip of that Pink Squirrel or Grasshopper). But don't worry, we will. Sorry Mom. These milkshakes pack a punch and are loaded with flavor. And, they've gotten a makeover. We've found some of the best recipes for boozy adult milkshakes and hope you'll let us know your favorite.
Before you start, you'll need a blender, ice cream, alcohol, whipped cream, and friends to share them with. These are hearty, dessert-worthy ice cream cocktails and milkshakes that will make your friends smile. Dee-lish.
7 Recipes for Adult Milkshakes and Ice Cream Cocktails
Ingredients:
2 cups vanilla ice cream
1 ounce crème de noya
1 ounce white crème de cacao
Whipped cream, for garnish
Purée ice cream, 1⁄2 ounce crème de noya, and the crème de cacao in a blender; pour into a cocktail glass. Top with a dollop of whipped cream; drizzle remaining crème de noya over the top. Serve immediately.
Ingredients:
1/2 cup whole milk
1/2 fresh vanilla bean, split and seeds scraped
11 ounces premium vanilla ice cream (about 1 3/4 packed cups)
1 ounce (2 tablespoons) bourbon
Combine the milk, bourbon, and vanilla bean seeds in the blender and blend until combined, about 5 seconds. Add the ice cream and blend until smooth, about 10 seconds.
Ingredients:
1 cup sugar
3/4 cup heavy cream
2 tablespoons unsalted butter
1 teaspoon flaky sea salt
1/2 teaspoon vanilla extract
1 cup vanilla bean ice cream
1/2 cup whole milk
5 ounces of rum

Add 1/3 cup water to a medium saucepan and set over high heat. Carefully pour the sugar directly into the center, so none of it splashes up the sides of the pot. Bring to a boil and cook until the sugar starts to turn brown. Do not stir the pot. If you need to, gently swirl the pot to help melt all the sugar. Once the sugar turns a deep brown color, remove from the heat and carefully pour in the cream, taking care as it will splatter a little. Add the butter, salt and vanilla. Swirl the pot until the butter dissolves completely and evenly into the caramel sauce.

Drizzle a little of the caramel sauce into two tall milkshake glasses. Add the ice cream, rum, milk and the remaining caramel sauce to a blender. Blend until smooth and pour into the glasses.

Ingredients:
3 cups vanilla ice cream
2 teaspoons cocoa powder
1/2 teaspoon ground cinnamon
1/4 teaspoon chipotle chili powder
1 teaspoon vanilla extract
3 ounces Cafe Patron
Whipped cream
Add to a blender and blend until smooth. Pour into glass, top with whipped cream. Enjoy!
Ingredients:
1 1/4 ounces dry gin
4 scoops of vanilla ice cream
1/4 cup of strawberries
2-3 leaves of fresh basil depending on size
Whipped cream and strawberries for garnish
Chill two glasses. Put gin, vanilla ice cream, strawberries and basil in a blender and mix until smooth. Garnish with whipped cream and a strawberry.
Ingredients:
1 pint coconut sorbet
1 pint vanilla ice cream or gelato
1 cup Spiced Rum
Whipped cream
Freshly grated nutmeg
Add the coconut sorbet and vanilla ice cream to a blender. Add about ¾ cup rum. Blend. Add more rum, if desired. Pour into glass. Top with whipped cream and grated nutmeg.
Ingredients:
1 cup of vanilla ice cream
1 cup milk
1-2 ounces white chocolate Godiva liquor1-2 oz Cake flavored vodka
1/4 cup vanilla frosting
2 tablespoons of sprinkles
In a blender combine all of your ingredients together. With your cup, rim the glass with frosting. Then dip into sprinkles, creating a "funfetti" rim. Pour milkshake into your prepared glass. Pipe additional frosting on top and sprinkle with remaining sprinkles.
Experiment. Enjoy. Happy milkshake tasting from Haskell's.