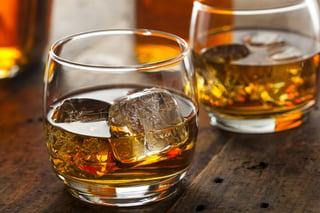 "If I cannot drink Bourbon and smoke cigars in Heaven then I shall not go."— Mark Twain
Is there someone on your VSP (very special present) list that might have a twang of Mark Twain in his or her blood? Make this holiday season a super sipper by creating a killer bourbon gift basket and slipping it under the tree. We have some ideas on how to make this holiday neat or rocking special. Sad pun attempts aside, whether you want to spend $50 or $100, we have a couple of ways to give a perfect gift for the bourbon lover in your life.
For the new or experienced bourbon aficionado
Haskell's 2 Bottle Bourbon Basket — Why worry? We've got the perfect bourbon basket waiting for you. And it's just under 50 bucks. The Jeffers Creek is smooth and unctuous and the Courtney & Woods offers a toasty, nutty and slightly spicy flavor. The perfect pair, all bundled up for $49.99.

Make it Minnesota Proud with this trio of local delights

A number of local Minnesota distilleries have opened in recent years and we're all luckier for it. Bundle two or three of these local bourbons together in a basket that will both show off your Minnesota pride and have your gift recipient ready to break out the glasses.
11 Wells Bourbon Whiskey — Made right in St. Paul in the historic Hamm's Brewery on Minnehaha Avenue. $30.99


Pike Street Bourbon Whiskey — 92 Proof Pike Street Bourbon is a two-year-old bourbon aged in the extreme Minnesota climate. $34.99


J Carver Barrel Gin

—

Okay, it's a gin, but they call it "a whiskey lover's gin," perhaps due to the fact that it starts with batches of gin 'resting' in Minnesota-made virgin bourbon barrels for weeks or months, depending on the maturity of flavors, with constant monitoring for progress and adjusting of botanicals. $38.99
Haskell's Delivers. Order now to have your special gift delivered right to the door of your someone special. Whether a client, business, family, or friend, have it delivered with ease. We can deliver just about anywhere in the Twin Cities Metro Area & if you live outside the metro, we can ship your order to you.