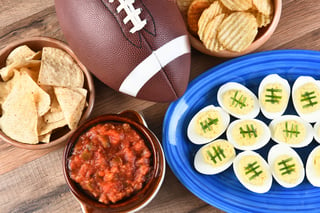 Part of the fun of football is watching with friends. Are you getting ready to host a Sunday afternoon game party or even the "big game" that's coming up? Don't be caught without enough food and drinks for everyone, and especially, don't forget to buy enough beer, because you don't want to be "that" host. So, you ask yourself, how much beer should I buy for a party? We have the answer, plus a handy calculator (and recipe) for wings, as well.
What to consider:
The unofficial rule of thumb for serving beer (or really, any alcohol) at a party is two drinks per person for the first hour of the party and then one drink per person each additional hour.
Then, it's just math.
How long will the party last? How many people will attend?
Example:
Party is expected to last four hours
Ten guests total are expected.
That's five drinks per person for a total of fifty 12-ounce cans, so you should buy two cases and a six-pack!
This calculator can also handle the math for you.
Tips:
You'll want to keep plenty of ice on hand too. Keep a cooler or two filled with beer and ice so you can keep your refrigerator free for all the food.
Also, stock up on water and soda. We love our beer, but make sure there is just as much non-alcoholic beverage available as well.
Make sure your guests also have plenty of food to chow down on during the game. We found a nifty tool to determine how many chicken wings you will need for your party to go along with all that great beer.
Consider if your guests are big, average, or small eaters, and plug the numbers into this calculator for an estimate of how many wings to order or buy. Then try out this easy Buffalo Chicken Wing recipe from a Western New Yorker who swears by this method.
Baked Buffalo Chicken Wings
It's a classic snack that started at the Anchor Bar in Buffalo, New York. Traditionally, the wings are deep-fried, but these baked wings are delicious without all the oil and an extra three points for being naturally gluten-free.
Ingredients:
5 pounds of chicken wings
1 stick of butter
1/2 cup Hot Sauce (preferably Frank's Hot Sauce for authentic flavor)

1 teaspoon salt
4-5 tablespoons Vegetable oil
2 tablespoons Worcestershire sauce
First, make sure your wings are separated into drum and wing sections. You'll need a sharp knife or kitchen scissors to cut through the wing joints to separate into three pieces. Discard the tip of the wing so you have just two meaty pieces of the wing.
Preheat oven to 425 degrees. Line a large baking sheet with aluminum foil. Brush oil on foil to make sure area is well-greased.
In a large bowl, drizzle vegetable oil on chicken wings along with salt and mix until well covered.
Line wings on the baking sheet (you'll likely need to make in batches) and place in oven for about 30 minutes (or until golden brown). Turn at about 15 minutes.
While cooking, add Frank's hot sauce, butter, and Worcestershire sauce to a small saucepan, stir, and heat until butter is melted.
In a large bowl, add cooked wings and pour sauce over wings. Mix until well coated. 
Serve with celery sticks and blue cheese dressing, and plenty of napkins.
Make it easy for yourself come game day and preorder your beer for pre-game fun. It's fast and easy with Drizly.
Founded in 1934, Haskell's has championed fine wines for over 80 years. We have 13 wine stores in Minnesota, two delis and one restaurant. As one of the top wine shops in North America, Haskell's is known for legendary service and one of the finest collections of wine, beer and spirits. Led by Chairman and CEO Jack Farrell, and the Farrell family, Haskell's continues to be at the forefront of the wine scene throughout the world. Haskell's also can ship wine, beer & spirits all throughout the world, the U.S. and we deliver locally.