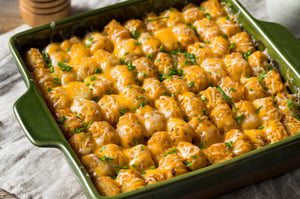 There's nothing better than a good ol' Minnesota hotdish on a cold winter's eve, dontcha know.
What's a hotdish, you ask? You must not be from Minnesota, but that's OK. Hotdish is a quirky Minnesotan term for what everyone else knows as casserole. We're a friendly, hotdish-sharing bunch, and we welcome you wholeheartedly. (We're called Minnesota Nice for a reason.)
So, to welcome you into the uniquely Midwestern fold (and keep those of us who already know and love hotdish firmly connected to our roots), we insist on sharing hearty food and drinks. But, before you grab a glass of "melk" to enjoy with that tater tot hotdish recipe, here are some great wine and beer pairings to try instead.
Pro tip: make sure the defining characteristics of your beverage match those of the hotdish. Or, for the adventurous amongst us, balance the flavors of your hotdish with a beverage that has the opposite flavor. That's good advice, but there's one other tidbit you'll find especially helpful when pairing hotdish recipes with beer or wine: don't gloss over the sauce. The creaminess, thickness, and flavors of a sauce will be one of the most distinct ingredients to join in a good pairing.
Amber Ales or Pinot Noir with Tater Tot Hotdish
Creamy, chunky, comforting — it's the quintessential hotdish sure to satisfy the widest cross-section of Northerners. This tater tot hotdish is built with the basics of farm life, featuring ground beef, corn, and green beans. We recommend mixing the beef and garden veggies all together in the mushroom soup before going heavy on the tater tots.
Citrusy Pale Ales or Cabernet Franc with Beef Stroganoff
Stay cozy and satisfied while winter slowly drudges on. Beef stroganoff will be your trusted dinner companion. (Bonus: it's an easy microwavable lunch if you're trying to eat out less and get more work done at the office.) An alternative to beef for this hotdish recipe: choose another stew meat for your hungry diners.
Brown Ales or Chardonnay with Creamy Chicken, Broccoli, and Bacon Hotdish
We all need recipes that cater to our preferences and nutrition needs. This hotdish can easily customize to your desires: Can't get enough bacon? Upping your green vegetable game? Experimenting with different cheeses? This creamy chicken, broccoli, and bacon hotdish recipe can't wait to be your new go-to.
Lager, Pilsner, Albarino, or Cava with Seafood Casserole
It's time for a change-up. Just because you may be in the middle of the country doesn't mean you can't enjoy coastal flavors. A seafood casserole incorporates lobster, crab, and shrimp, which you can serve alongside toasty garlic bread and a leafy salad.
Who's hungry? It's time to hit the kitchen and stock up on beer and wine to make this the season of hotdish recipes that will keep you content for years to come.