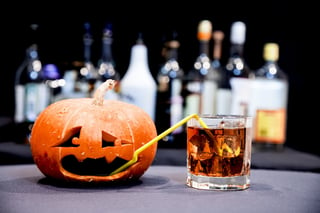 The orange leaves are falling and the days are getting shorter – both indicators that the spookiest holiday of the season is lurking around the corner. Get ready, it's almost Halloween!
Hosting a costume party? Halloween drinks are a must. We're feeling a little devilish, so we've rounded up a great assortment of beer, wine and spirits that bring the ghoulish game to any party. Plus, we've added a few festive cocktail recipes from Minnesota's own distilleries.
When you can, keep it local. Cheers to the spirit of the holiday!
Boo-tastic Beers and Ales
Wicked Wines
Scary Spirits
Festive Cocktail Recipes from Minnesota Distilleries

Corpse Reviver #2, courtesy of Tattersall Distillery

Rinse a coupe glass with absinthe. Combine all other ingredients over ice, shake, strain into absinthe-rinsed glass and serve up with a twist.
Blood Orange Collins, courtesy of J. Carver Distillery
Serve over ice in a collins glass. Garnish with an orange wedge and a cherry.
Spiked Apple Cider Mule, courtesy of Panther Distillery
Add a splash of lime juice to mule mug. Add 2 oz. of Spiked Apple Bourbon, ice and 2 oz. of apple cider. Fill to the top with ginger beer, garnish with a cinnamon stick and apple slices.
Still haven't found your potion?
These blogs might have what you're looking for:
Now, for the ingredients. Take advantage of our Fall Sale going on now. You can get your free catalog by clicking the link below! If you already know what you need, no need need to wait for business hours, you can order online now.