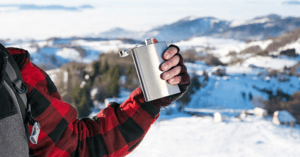 Flasks have a certain kind of connotation: It's in the pocket of your perpetually drunk uncle who won't stop talking about a bad business deal from decades ago. Or it's in grandma's purse but no one knows … except you and all the other grandchildren.
But now you have a dilemma. You received a flask for Christmas, or was it your wedding? Or was it that one birthday a couple years back? Anyhow, while it's not as common as other drinks that come in fancy glasses with stems or big ice cubes, a good flask drink excels in its simple concoction with no worries at all about the presentation.
No need to get trashy or flashy—dust off that flask and get some practical use out of the thing. It turns out that winter is a great time to use it for some good flask drinks that travel well and fit in your pocket, so it can keep up with your activities, the events you attend, or just regular old routines—maybe even another wedding.
Here are some good flask drinks for your winter survival.
Classic B&B Brandy Cocktail Recipe
This flask cocktail couldn't be any easier. No need to worry about proportions or a garnish. The only question is whether you have a glass and want to pour it over ice or in a pre-warmed glass (using a rinse of hot water, which you dispose before pouring in the cocktail).
Ingredients:
How to make a B&B Brandy flask cocktail:
Pour ingredients into flask using a funnel.

You're good to go!
The Godfather Cocktail Recipe
Stiff, smoky, sweet—these are the intense impressions you crave in the dulling days of winter. Bring this one to the ski chalet, or the ski hill!
Ingredients:
How to make a Godfather flask cocktail:
Combine Scotch and amaretto in flask.

Enjoy!
Classic Sidecar Recipe
Another classics from the playbook, the Sidecar is bright and cheery, acidic and soothing. Definitely a top option for those winter days when you sleep in and want a lazy, delicious brunch with booze while it snows outside.
Ingredients:
How to make a classic Sidecar flask cocktail:
Pour Cognac, orange liqueur, and lemon juice into flask (make sure your flask is non-reactive to acids like lemon juice).

If possible, store flask in a cold place until you drink (like the snowbank next to your ski resort hot tub).
Adonis Cocktail Recipe
Named for the Greek god and the first Broadway musical to run more than 500 performances, the Adonis cocktail is super for a flask because of the minimal ingredients and decadently sweet yet peppy flavor profile.
Ingredients:
How to make an Adonis flask cocktail:
Pour ingredients into a flask using a funnel.

For extra citrus punch, add 2 dashes of orange bitters.
Now you have some wintry fun ways to use your flask for all things leisure, from tailgating, snowshoeing, and cross-country skiing to holiday events, birthday parties, and more.