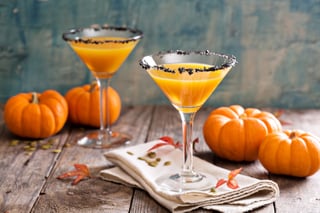 Halloween is a great excuse to bring out the kid in all of us. We dress up and indulge in some silly behavior, but we also have some ideas to help remind you that you don't have to be a kid to have fun. We've culled some very adult cocktail recipes for your upcoming Halloween party that will absolutely get you and your guests into the spirit. The names of these are so good, you may consider creating recipes cards at the party. A little mood lighting, dry ice, good music, good food, and these killer cocktails will be a hit. Here are three great Halloween drinks for your costume party that will have all of your guests coming back for more.
Punch Recipe:
10 ounces vodka
5 ounces triple sec
2 ounces bitters
In a large punch bowl filled with ice, pour vodka, triple sec, bitters, blood orange juice, and black cherry soda. Laugh as though you are an evil zombie and stir. Rim each glass with grenadine before filling with punch mixture, and serve. Stagger around menacingly, and threaten to eat strangers' brains. Serves 8.
Punch Recipe:
One 20-ounce can lychees in heavy syrup

1/4 cup thinly sliced peeled fresh ginger

16 brandied cherries

1/4 cup superfine sugar

1/2 cup fresh lime juice

12 ounces dark rum

Three 12-ounce bottles ginger beer

Ice cubes
In a small saucepan, bring the lychee syrup and ginger to a boil. Remove from the heat, cover, and let steep for 30 minutes. Meanwhile, stuff 16 lychees with brandied cherries. Set each lychee in the cup of a mini-muffin pan or in an ice cube tray. Strain the lychee-ginger syrup and pour it over the lychees. Freeze until firm, at least 4 hours. Meanwhile, in a pitcher, stir the sugar into the lime juice until dissolved. Add the rum and refrigerate until chilled, about 1 hour. Unmold the lychee ice cubes into a small punch bowl. Pour in the lime-rum mixture. Add the ginger beer, stir gently, and serve in ice-filled glasses.
Spellbinder with Devil Eyeballs
Punch Recipe:
Spooky Ice Cubes:
Food coloring
Water
Novelty ice cube trays
Devil Eyeballs:
20 maraschino cherries
20 chocolate chips (white or dark chocolate)
20 lychee nut fruits (canned and pitted)
For the Punch: Combine all ingredients in a large glass punch bowl and mix well.

For the Ice Cubes: Color water with desired food colorings and pour into ice cube trays. Freeze until firm.

For the Devil Eyeballs: Remove the stems from the cherries. Insert a chocolate chip, point side in, into each cherry to make "pupil" of the eye. Stuff cherry into pitted lychee nut fruit. Ladle some of the punch into each glass. Garnish with ice cubes or devil eyeballs.
PRO TIP: If you are really looking to add a little horror to your hosting abilities, try making wormy ice cubes for your killer cocktails. Don't worry, no real worms are needed.