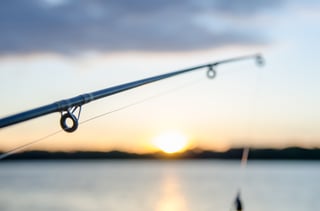 Summer at a lake is about as Minnesotan as one can be. And, fishing for walleye, well, that's a true Minnesota experience. We can't tell you the best way to land a walleye, but we can sure help you match your fresh walleye meal with a great local brew. What better way to show local pride than sitting down with a plate of freshly caught and cooked Minnesota walleye and one of Minnesota's great local craft beers.
Local Craft Beers to Pair With Your Favorite Walleye Recipe
How to pair your local walleye with a local beer: It depends on how you plan to prepare your freshly caught (or purchased — we can't spend every weekend at the lake) fish. Of course, there is no one answer. It all depends on your personal taste preference. However, here are a few pairing ideas worth considering.
Summit EPA – great with a beer battered fish recipe. You can't go wrong with this Extra Pale Ale.
Citrusy, hoppy, and malty flavors all pair nicely with Asian-inspired foods. That means Surly Furious pairs nicely with Asian-inspired recipes.
Walleye Recipes to Pair With Your Favorite Local Craft Beer
Ingredients:
1/4 cup butter
2 -3 large garlic cloves, finely chopped
1 -2 teaspoons fresh lemon juice
2 1/2 lbs. boneless skinless walleye pike fillet or 2 1/2 lbs. other lean white-fleshed fish fillets
Salt & freshly ground black pepper
3/4 cup grated Romano cheese
1 cup fine dry breadcrumb
Green onion (optional)
Spray a 15x10x1 baking pan with nonstick cooking spray. In a small saucepan, melt butter and stir in garlic and lemon juice. Rinse fillets. Cut into 6 servings. Sprinkle fish with Romano cheese and cover with breadcrumbs. Drizzle the fish with any remaining garlic-lemon butter. (Fish may be prepared to this point, covered and refrigerated up to 1 hour). Bake in 450° oven for 10 to 12 minutes or until flakes easily. Transfer fillets to warm serving platter and garnish with green onion.
Simple Beer Batter Recipe
Ingredients:
Walleye fillets
1 cup flour

3/4 cup of beer

1 beaten egg

1 teaspoon of salt

Dash of pepper
Oil for frying (coconut oil can withstand a higher temperature)
Mix flour, beer, egg, salt, pepper and dip fillets in batter. Then drop into hot deep fat (380°). Cook for 2 minutes or until browned. Finish the rest of your beer.
Ingredients:
1 tbsp. soy sauce
2 tbsp. fresh ginger, minced
1 tbsp. scallion, chopped
1 tbsp. garlic, chopped
1 red chili pepper, julienned into strips
2 cups fish broth (clam juice can be substituted)
4 sprigs fresh cilantro
Two 6-ounce walleye fillets
Salt and pepper
Place the first 6 ingredients in a pan that will hold a bamboo steamer. Place cilantro in bottom of steamer. Add walleye. Season with salt and pepper. Steam for three to four minutes until just flaking. Serve over rice noodles and vegetables with some of the strained broth.
2 tablespoons butter, softened
1 teaspoon chopped fresh chives
1 teaspoon orange juice
1/4 cup chopped pecans, toasted
2 (6-oz.) walleye fillets
1/8 teaspoon salt
Dash coarse ground black pepper
Heat grill. Cut one 12-inch-square piece of heavy-duty foil. With tip of sharp knife, cut 2-inch slits every 2 inches across foil. Spray foil with nonstick cooking spray. In small bowl, combine butter, chives, orange juice and 2 tablespoons of the pecans; mix well. When ready to grill, place foil on gas grill over medium heat or on charcoal grill 4 to 6 inches from medium coals. Sprinkle walleye fillets with salt and pepper. Place fillets on foil; cook 8 to 12 minutes or until fish flakes easily with fork, turning once. During last minute of cooking time, top fillets with pecan butter. Remove fillets from heat; place on serving platter. Sprinkle with remaining 2 tablespoons pecans.
Stop in any Haskell's location and our staff will be happy to help you land the best local craft brew for your dinner tonight.
Founded in 1934, Haskell's has championed fine wines for over 80 years. We have 13 wine stores in Minnesota, two delis and one restaurant. As one of the top wine shops in North America, Haskell's is known for legendary service and one of the finest collections of wine, beer and spirits. Led by Chairman and CEO Jack Farrell and the Farrell family, Haskell's continues to be at the forefront of the wine scene throughout the world. Haskell's also can ship wine, beer & spirits all throughout the world, the U.S. and we deliver locally.