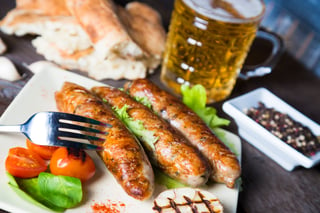 Beer. It tastes good whether right from the bottle or from your favorite frosty mug. But while we often talk about wine and food, how often do we discuss beer pairing? Or recipes with beer? Well, we want to change that. So, we decided to think outside the six-pack and searched for some tasty beer recipes that might change your mind about beer as a special ingredient.
We've put together what we believe is a perfect menu that highlights all the goodness that is beer. Invite your brew bestie over for this beer lover's menu. Save the beer nuts for another occasion. This is menu worth bringing out the cloth napkins.
Menu:

Kale Salad with Amber Ale Vinaigrette
Guinness-Glazed Halibut
Wit-Glazed Brussels Sprouts
Simple Make Ahead Chocolate Stout Pot de Crème
Kale Salad with Amber Ale
Ingredients:
1 cup sliced almonds
1/2 cup amber ale
1/4 cup maple syrup
2 tablespoons olive oil
Juice and zest of 1/2 orange
Kosher salt and freshly ground black pepper
2 bunches lacinato kale, de-stemmed and cut into ribbons
Preheat the oven to 350 degrees F. Spread the almonds on a rimmed baking sheet and bake, tossing occasionally, until golden brown, 8 to 10 minutes. Cool. In a large salad bowl, whisk together the ale, maple syrup, olive oil, orange juice and zest, and some salt and pepper. Toss the kale, almonds, and apricots with the vinaigrette. Serve on salad plates.
Ingredients:
Two 12-ounce bottles Guinness stout
1/3 cup honey
1 tablespoon fresh lemon juice
1/2 teaspoon hot sauce
Salt
Four 6-ounce skinless halibut fillets
4 large carrots, cut into 2-by-1/2-inch sticks
Extra-virgin olive oil, for brushing
Freshly ground pepper
In a skillet, bring the stout and honey to a boil. Simmer over moderate heat, skimming until reduced to 1/2 cup, 25 minutes. Pour into a heatproof bowl and stir in the lemon juice, hot sauce, and 1/2 teaspoon of salt; let cool to room temperature. In a shallow baking dish, pour half of the stout glaze over the halibut fillets and turn to coat thoroughly. Cover and refrigerate overnight, turning a few times. Reserve the remaining stout glaze.
Preheat the broiler. Bring a saucepan of water to a boil. Add the carrots and boil until just tender, about 4 minutes; drain. Pour the reserved stout glaze into the saucepan and boil over high heat until thickened and reduced to 1/3 cup, about 2 minutes. Add the carrots and simmer until glazed, about 1 minute.
Remove the halibut from the marinade and arrange the fillets on a rimmed baking sheet. Brush the halibut with olive oil and season with pepper. Broil about 4 inches from the heat until richly browned and just cooked through, about 4 minutes. Transfer the halibut to plates and serve with the Guinness-glazed carrots.
Wit-Glazed Brussels Sprouts
Ingredients:
1 tablespoon extra-virgin olive oil
1 small onion, sliced thin
2 pounds Brussels sprouts, trimmed
1 12-ounce bottle witbier
1 teaspoon salt
1⁄4 teaspoon freshly ground pepper
Heat the oil in a large, high-sided skillet over medium heat. Add the onion and Brussels sprouts and cook, stirring occasionally, until the Brussels sprouts begin to brown in spots, about 3 minutes. Stir in the beer, salt, and pepper. Cover and cook, stirring occasionally, until the sprouts are tender, about 10 minutes. Uncover and cook until the beer evaporates, about 3 minutes more.
For the Pot De Crème:
5 large egg yolks
½ cup sugar
½ tsp. salt
1 ½ cups heavy cream
2/3 cup stout beer*
5 ounces dark chocolate, chopped
For the Whipped Cream:
1 cup heavy cream
¼ cup powdered sugar
½ tsp. salt
1 tsp. vanilla extract
Preheat oven to 325. In a medium sized bowl, whisk together the yolks, sugar, and salt. Set aside. Stir together the cream and beer in a saucepan over medium-high heat. Heat until warmed and bubbles just start to form around the edges (do not boil or simmer), remove from heat. Add the chocolate, stir until chocolate has melted and is well combined. While whisking the yolks continually, slowly add the chocolate until completely combined. Add small (6 ounce) ramekins to a baking pan, divide the mixture evenly between the ramekins. Slowly pour warm water into the baking pan around the ramekins until about half way up the sides. Cover the baking pan with aluminum foil. Gently transfer to the oven. Bake until the chocolate has set but the center is still slightly wobbly, about 45 to 50 minutes. Remove from oven, carefully remove from water bath and allow to cool to room temperature before transferring to the refrigerator. Chill until set, at least 3 hours and up to 3 days. Just prior to serving, make the whipped cream. Add all the whipped cream ingredients to a bowl. Using a hand mixer to beat until soft peaks form. Top each Pot De Crème with whipped cream.