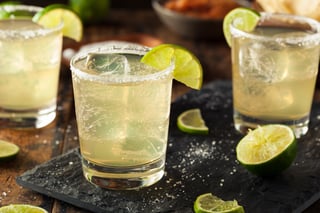 Happy Hour begins whenever you decide it's time to end your workday and celebrate with a cocktail and friends. After all, as Jimmy Buffet and Alan Jackson sang, It's Five O'Clock Somewhere, and we have a few Extra Anejo cocktail recipes you'll want to try. Forget the post-college salt, lime, shot trick. We're all adults now, so let's move up to the smooth, aged, fine tequila worthy of sipping.
Tequila 101
First, there are plenty of tequila brands to explore and a few classifications you'll want to know.
Joven or Gold
A mixture of Blanco and Reposado or a mixto.
Blanco
Sometimes called silver or white. Aged less than two months.
Reposado
It means "rested" in Spanish and is aged up to 1 year.
Añejo and Extra Añejo
Heavily aged, at least 1 year but less than 3 years. Reserve these for sipping.
Anejo and Extra Añejo tequila are perfect for sipping at room temperature. Like a nice single-malt Scotch, enjoy straight up.


However, if you feel daring, here are 3 must-try Extra Añejo Cocktail recipes, including a remix of a classic, and a couple summer knockouts.

Enjoy this classic cocktail with your new favorite tequila.

Ingredients:
Ice
2 ounces Añejo tequila
1/2 ounce sweet vermouth
1/4 ounce Licor 43 (A citrus-and-vanilla-flavored Spanish liqueur)
Dash of Angostura bitters
Dash of orange bitters
1 fresh or maraschino cherry
Fill two-thirds of a pint glass with ice. Add all of the remaining ingredients except the cherry. Stir briskly for 30 seconds to chill. Strain into a chilled martini glass; garnish with the cherry.
Thai Basil Grapefruit Cocktail
Ingredients:
4-5 Thai basil leaves
1/2 fresh squeezed lime
1 1/2 ounces Añejo tequila
1/2 ounce Green Chartreuse
San Pellegrino Pompelmo (grapefruit)
In a cocktail shaker, muddle Thai basil leaves and fresh squeezed lime.
Add tequila and Green Chartreuse with ice and shake. Fill a rocks glass with ice and strain ingredients from cocktail shaker into the rocks glass.
Top with San Pellegrino Grapefruit and garnish with lime wheel and sprig of Thai basil.
Ingredients:
1½ oz. Añejo tequila
½ oz. Grand Marnier
¾ oz. agave syrup
6-8 fresh mint leaves
4 lemon wedges
Garnish: fresh mint sprig
Combine all ingredients in a shaker with ice. Shake, strain into a rocks glass packed with crushed ice and garnish.
At Haskell's, we have more than 130 tequilas in stock. Check them out at any of our Haskell's locations, or buy them online anytime.
Founded in 1934, Haskell's has championed fine wines for over 80 years. We have 13 wine stores in Minnesota, two delis and one restaurant. As one of the top wine shops in North America, Haskell's is known for legendary service and one of the finest collections of wine, beer and spirits. Led by Chairman and CEO Jack Farrell and the Farrell family, Haskell's continues to be at the forefront of the wine scene throughout the world. Haskell's also can ship wine, beer & spirits all throughout the world, the U.S. and we deliver locally.