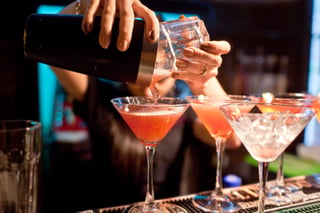 Living a gluten-free lifestyle doesn't mean you have to give up enjoying your favorite adult beverages. Knowing what type of liquor and spirits are gluten-free will help you stay healthy and allow you to enjoy a cocktail worry-free.
Typically, potato and grape vodka, rum, and tequila are made from ingredients that do not contain gluten or are naturally GF. These are generally safe to drink by those with celiac disease or gluten intolerance, while bourbon and whiskey are verboten (of course, there are some exceptions). Those with gluten sensitivity may do well with one brand, but not another; it's best to know what you can tolerate.
Let's dive in and look at five mouthwatering gluten-free cocktails you'll want to try:
Moscow Mule – For Vodka Drinkers
Ingredients:
1/4 cup vodka
1 tablespoon fresh lime juice
1/2 cup chilled ginger beer (NOT ginger ale)
1 lime wedge
Ice cubes
Fill tall glass with ice. Add vodka and lime juice, then ginger beer; stir to mix. Garnish with lime wedge.
The Ultimate Negroni Recipe – For Gin Drinkers
Ingredients
1 1/2 ounces gin – London dry gin
3/4 ounce Campari
3/4 ounce vermouth – Italian vermouth
Shake well with cracked ice, then strain into a chilled cocktail glass and garnish with a twist of orange peel.
Perfect Margarita – For Tequila Drinkers
Ingredients:
1/2 oz. tequila (**100% agave a must, preferably a "reposado")
1 1/2 oz. triple sec or Cointreau
1 to 1 1/4 oz. of lime juice
Salt for the rim of the glass
Shake all the ingredients with cracked ice in a cocktail shaker until the exterior frosts. Strain into a glass over rocks, or "up" into a cocktail glass. Add slice of lime as a garnish
Ingredients:
1 1/2 oz. light rum

1 tbs. superfine sugar

Lime wedges

Club soda

Mint sprigs
Muddle mint leaves, superfine sugar and lime in a mixing glass. Add 1 1/2 oz. light rum and ice in a cocktail shaker and shake. Strain the mixture into a tall glass and top with club soda. Garnish with fresh mint sprig
Limoncello Collins – For Lemon and Gin Lovers
Ingredients:
16 ounces Limoncello (lemon-flavored liqueur)
12 ounces gin
8 ounces fresh lemon juice
24 paper–thin lemon slices
Ice
16 ounces chilled club soda
8 mint sprigs
Of course, you know what you are most sensitive to so use your best judgment. These are just a sampling of recipes that are gluten-free.
For a more comprehensive guide to gluten-free beverages, check out this list and this one.
You'll find plenty of GF wine, cider, and beer options as well. And, we are happy to help you find what you need when you stop by any of our Haskell's stores.
Founded in 1934, Haskell's has championed fine wines for over 80 years. We have 13 wine stores in Minnesota, two delis and one restaurant. As one of the top wine shops in North America, Haskell's is known for legendary service and one of the finest collections of wine, beer and spirits. Led by Chairman and CEO Jack Farrell, and the Farrell family, Haskell's continues to be at the forefront of the wine scene throughout the world. Haskell's also can ship wine, beer & spirits all throughout the world, the U.S. and we deliver locally.