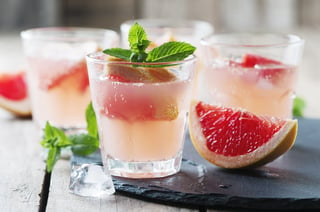 Grapefruit — the softball-sized cousin of an orange that doesn't get nearly as much attention — is loaded with juicy, tart, tangy citrus flavor that borders from sour to semi-sweet. And that, dear friends, is why grapefruit is such a good flavor for premium vodka. Flavored vodkas have become immensely popular, and it helps to know which ones to watch out for. We have a full line of flavored vodkas available at all our locations — plus available with ease online— but these are five grapefruit vodkas you should try right now.
They are vibrant, zesty and inspirational grapefruit vodkas that taste great on their own, but we're also including some tasty cocktail recipes.

CHECK THEM OUT: Buy Grapefuit Vodka!
Grapefruit Vodka Cocktail Recipes
Ingredients:
1.5 oz. grapefruit vodka
.5 oz. lemon juice
.5 oz simple syrup
Build in a Collins glass over ice and stir gently. Top with Guinness Blonde. Garnish with a grapefruit slice.
Ingredients:
1 part grapefruit vodka
2 parts club soda
Lime Garnish
Pour ingredients over ice. Enjoy.

Ruby Fizz
Ingredients:
Champagne or Prosecco in a champagne flute

1 oz. grapefruit vodka

Blueberry or raspberry

Add grapefruit vodka to champagne flute. Drop a blueberry or raspberry in glass for garnish. Cheers!