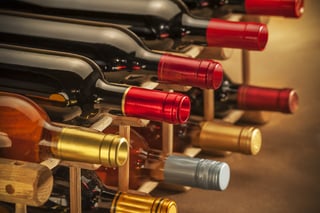 Before you head to the recycle bin with your empty wine bottles, consider turning those glass receptacles into a pièce de résistance, or perhaps a good old-fashioned craft project. The fact is, many bottles are simply gorgeous, albeit now sans sumptuous wine – glass vials just waiting for a new life. So, if you like to work on craft projects (and drink wine), we think you'll like these five wine bottle craft projects.
Light Up Your Life
Tiny battery-operated fairy lights are trending and a great fit for empty wine bottles. You can simply add the lights to your favorite empty glass bottle, tuck the battery pack in the neck of the bottle, and your set. Or, drill a small hole in a side of the empty, dry bottle – large enough to feed the lights and battery box. Smooth out the rough edge of the hold with a grinding stone so you don't end up with cuts. As shown in this photo, you can choose to cut the glass bottom of the bottle and tuck the lights inside. Whatever way you choose, it's cool.
Wine Bottle Wall Vase
Combine reclaimed wood, recycled glass bottles and some hardware for an inexpensive wall décor project. Follow these instructions, and set aside about an hour's worth of time.
Wine Bottle Bird Feeder
Feeling a little handy? The birds waiting for some fresh seed will be happier if you make put out a bird feeder so why not build your own. Here are the step-by-step bird feeder instructions.
Etched Glass Soap Dispenser
We love how this project looks, and it will be especially great for someone who has done craft projects or hasn't wanted to try his or her hand at etching on glass.
Decorative Hand-Painted Oil and Vinegar Bottles
This is a great way to warm up a cold house (you have to bake those bottles to finish the project) and bring out your inner Picasso.
Next time you're in one of our Haskell's locations, will you be looking at the wine bottles a little differently to try and figure out what work of art you'll create once you've finished sipping your favorite grape?
Founded in 1934, Haskell's has championed fine wines for over 80 years. We have 13 wine stores in Minnesota, two delis and one restaurant. As one of the top wine shops in North America, Haskell's is known for legendary service and one of the finest collections of wine, beer and spirits. Led by Chairman and CEO Jack Farrell, and the Farrell family, Haskell's continues to be at the forefront of the wine scene throughout the world. Haskell's also can ship wine, beer & spirits all throughout the world, the U.S. and we deliver locally.