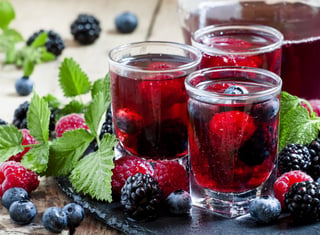 Spring. It's here. We've had a mild winter, to say the least, and we'll soon see crocus and tulips bursting open as Mother Nature brings sunshine and warmer weather. So, it's time to stock up on vodka and gin, and sweeten up our cocktail mix. What better way to do that than with a few batches of highly addictive fresh and fruity drinks? Oh, and Sangria, the Queen of Spring (and summer) drinks.
Here are five fruity drinks that will help you think Spring!
For the ginger syrup:
1/2 cup peeled ginger root, roughly chopped
1 cup sugar
1 cup water
For the cocktail:
2 Sumo oranges, 1 peeled and broken into segments, 1 thinly sliced for garnish
2 lemons, 1 cut into wedges, 1 thinly sliced for garnish
8 kumquats, thinly sliced and de-seeded
3 ounces Maraschino liqueur
1 ounce orange liqueur such as Cointreau
1 bottle rosé wine
12 frozen grapes
Club soda
To make the ginger syrup: Combine ginger, water, and sugar in a small saucepan. Heat over high heat until boiling, stirring to dissolve sugar. Reduce to a simmer and continue to cook for about 10 minutes. Remove from heat and let cool. Strain through a fine mesh strainer. Ginger syrup will keep for one week in a sealed container in the refrigerator.
To make the sangria: Add the Sumo orange and lemon segments along with 5 sliced kumquats to the bottom of a pitcher. Add Maraschino liqueur, orange liqueur, and 2 ounces of ginger syrup, and muddle. Add the entire bottle of rosé and stir. Keep refrigerated until ready to serve, up to 4 hours.
When ready to serve, add a slice of orange and lemon, a few kumquat slices, and a few frozen grapes to each glass. Add 2 ounces of soda water to the glass. Stir the sangria in the pitcher and strain into each glass.
Definitely an adult only smoothie, perfect to whip up a batch for brunch! Serves 4.
Ingredients:
3 cups small ice cubes
1 cup passion fruit nectar
1/4 cup vodka
1/4 cup half-and-half
2 tablespoons Cointreau
1 splash orange juice
1 splash coconut cream (optional)
Fresh passion fruit seeds, for garnish
Place ice, passion fruit nectar, vodka, half-and-half, Cointreau, orange juice, and coconut cream, if using, in a blender. Blend until smooth. Adjust consistency by adding more ice or juice as needed. Garnish with passion fruit seeds, and serve immediately.
Ingredients:
3 cups fresh raspberries
1 cup gin
1/2 cup sugar
1/2 cup fresh lime juice
1/4 teaspoon (scant) rose water
3 cups crushed ice
Mix first 5 ingredients in bowl. Let stand 1 hour at room temperature, occasionally stirring and crushing some of the berries.
Place 3/4 cup ice in each of 4 glasses. Top each with 3/4 cup raspberry mixture. Serves 4.
This NYC deli's take on a classic Cosmo is quite tasty.
Ingredients:
2 ounces vodka
1 ounce Cointreau
½ ounce simple syrup
½ ounce Pom juice
½ ounce fresh lime juice
1 ½ fresh strawberries
Shake and serve up in a martini glass. Garnish with lime and strawberry.
Ingredients:
2 ounces of gin
4 large or 6-7 small ripe strawberries, cut into quarters
2 leaves of basil, julienned
Fizzy Water
1-2 drops Orange Bitters
In a 12-14 ounce glass, combine the gin and two of the strawberries, and smash to combine. Add ice (more ice equals less fizzy water equals higher ratio of booze) and the remaining cut up berries and the basil. Stir to combine and top with one or two drops of orange bitters.
BONUS: April Rain. How could we pass up a cocktail that describes a month in two words? Technically, it fits as a fruit drink because, well, lime. Cheers!
Ingredients:
2 ounces vodka
1/2 ounce Rose's® lime juice
1/2 ounce vermouth
lime peel

Pour Vodka, Vermouth, and Rose's lime juice into shaker over ice. Shake with care not to bruise. Strain into chilled cocktail (martini) glass. Garnish with lime peel (zest).
Founded in 1934, Haskell's has championed fine wines for over 80 years. We have 13 wine stores in Minnesota, two delis and one restaurant. As one of the top wine shops in North America, Haskell's is known for legendary service and one of the finest collections of wine, beer and spirits. Led by Chairman and CEO Jack Farrell, and the Farrell family, Haskell's continues to be at the forefront of the wine scene throughout the world. Haskell's also can ship wine, beer & spirits all throughout the world, the U.S. and we deliver locally.