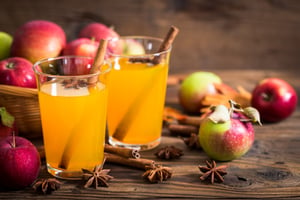 Five, count them, five great cocktails to head into autumn. As much as we love summer in Minnesota, there is something incredibly special about the change of seasons as the maple leaves begin to cross over to their autumnal colors, the air becomes crisp, apples beg to be picked, and the bourbons beckon you for a great pour. While vodka and gin remain perennial favorites, it's time to let some of those fine, brown liquors get into the limelight along with apples, cranberries, and cider. And football. Go Vikes, and enjoy these five fall cocktails to go with your favorite fall foods — including one with Viking in its name.
Ingredients:
1 cup quartered and thinly sliced unpeeled apples (perfect for apple picking season!)


1 navel orange — quartered and thinly sliced crosswise

1 cup apple juice, chilled

2 tablespoons fresh lemon juice

1/4 cup apple brandy
One 22-oz. bottle hard apple cider, chilled

Ice
In a pitcher, combine the apples with the orange, apple juice, lemon juice, and brandy. Just before serving, add the hard cider. Serve in tall glasses over ice.
Ingredients:
1½ oz. bourbon
1 oz. Campari
1 oz. sweet vermouth
Garnish: orange slice, lemon twist, or cherry
Stir ingredients well with ice in a mixing glass and strain into a chilled glass. Garnish.
Ingredients:
1½ oz. bourbon
1½ oz. cranberry juice
2 teaspoons grenadine
1 oz. strained fresh orange juice
Chilled seltzer or club soda
1 orange slice for garnish
Ingredients:
1 oz. Cognac
.5 oz. Apple cider syrup*
.25 oz. Allspice Dram
.25 oz. Orange juice
*Apple cider syrup:

4 cups (473 ml) Apple cider, freshly pressed
In a medium saucepan, bring the apple cider to a boil. Reduce the heat and continue to simmer, uncovered, stirring occasionally, until the liquid has reduced to one cup (about 1 hour). Remove from heat and allow to cool. Store, refrigerated, for up to two weeks. (syrup makes enough for 8 cocktails)
Add all ingredients to a shaker and fill with ice. Shake vigorously, and strain into an Old Fashioned glass over a large ice cube.
Garnish with an orange peel.
Ingredients:
Pour the liqueurs, juice, and sour mix into a highball glass filled with ice. Stir well. Top with a splash of soda.
Don't forget the snack plates to go along with these tasty cocktails. The Big Cheese delis in our Minneapolis and St. Paul locations have all your cheeses, olive oil, meats, and other gourmet items perfect for the party!