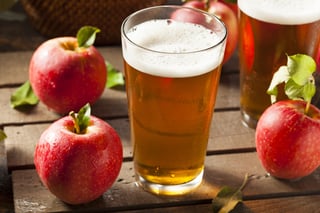 Hard cider – that boozy fermented apple (or pear) cider is thirst quenching right from the bottle. However, we say take it a step further and use it as an ingredient in a cocktail that will turn your cocktail party, whether for two or twenty, into one that has your guests asking for recipes. Here's a secret: keep it simple. These are effortless – but so delicious.
Experiment with either apple or pear cider. And, be careful. Some say the Snake Bite was given its name because it sneaks up on you.
Here are Five Simple and Effortless Cider Cocktails:
Snake Bite – Simple and delicious.
Ingredients:
Hard apple cider
Lager beer
Mix equal parts of cider and lager beer for a refreshing drink. For a layered effect, pour the cider slowly over the back of a spoon.
Ingredients:
2 ounces gold rum
6 ounces hard cider
Fill a rocks glass with ice. Pour rum over the ice and stir gently. Add cider, stir and serve.
Ingredients:
3 ounces freshly squeezed orange juice
3 ounces extra-dry hard cider (sparkling, not still)
1 tsp. Domaine de Canton Ginger Liqueur (optional)
Before building the cocktail, make sure the orange juice and cider are both well chilled. Pour three ounces of orange juice into Champagne flute. Add ginger liqueur to the orange juice and stir well. Tilt the flute on an angle and fill with cider. Gently stir, garnish with orange wedge, and serve immediately.
Ingredients:
4 oz Angry Orchard Crisp Apple
½ oz simple syrup
1 oz vanilla vodka
2 medium strawberries, quartered
2 basil leaves, julienned
2 lime slices
Ingredients:
1-1/2 ounces blended scotch
¼ ounce Ancho Reyes chili liqueur
¼ ounce fresh-squeezed lemon juice
¼ ounce honey syrup
1-1/2 ounces pear hard cider
There you have it, five easy and tasty cider cocktails to sample this summer. By the time you've tasted them all, you'll probably be ready to try some warm cider drinks in the fall.