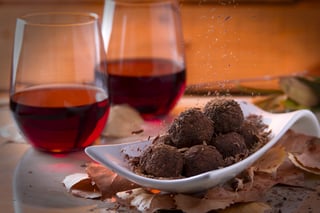 We love wine with dessert, but we also love desserts with wine. Sweets inspired by the famous W.C. Fields line, "I cook with wine, sometimes I even add it to the food." So, we thought we'd indulge you with five of the most decadent red wine dessert recipes we could find and hope your sweet tooth and your passion for a nice glass of wine are both served. If the recipe doesn't call for a specific type of red wine, simply use a wine you enjoy drinking. You won't be using a whole bottle for the recipe, so be sure to use one that's sip-worthy.
Enjoy these wine-infused dessert recipes we've scoured our resources to bring to your kitchen.
Ingredients:
2 cups all-purpose flour
3/4 cup unsweetened cocoa powder (not Dutch process)
1 1/4 teaspoons baking soda
1/2 teaspoon salt
2 sticks unsalted butter, softened
1 3/4 cups sugar
2 large eggs
1 teaspoon pure vanilla extract
1 1/4 cups dry red wine
Confectioner's sugar, for dusting
Whipped cream, for serving
Preheat the oven to 350°. Butter and flour a 12-cup bundt pan. In a bowl, whisk the flour, cocoa powder, baking soda, and salt. In a large bowl, using a handheld electric mixer, beat the butter with the sugar at medium-high speed until fluffy, approx. 4 minutes. Add the eggs, one at a time, and beat until incorporated. Add the vanilla and beat for 2 minutes longer. Working in two batches, alternately fold in the dry ingredients and the wine, until just incorporated. Scrape the batter into the prepared pan, and bake for 45 minutes, until a toothpick inserted in the center comes out clean. Let the cake cool in the pan for 10 minutes, then turn it out onto a rack; let cool completely. Dust the cake with confectioner's sugar and serve with whipped cream.
Ingredients:
1 cup oil
3 1/4 cup flour
1 cup red wine
1 cup sugar
1 heaping tbsp. shortening
Blend ingredients together and knead. Shape into a ball. Sprinkle flour and roll out dough. Use cookie cutter designs or make into small pretzel shapes. Dip one side in sugar. Place sugar side up on an ungreased cookie sheet at 350° for approximately 10-15 minutes, or until lightly brown underneath.
Ingredients:
1 1/2 cups all-purpose flour
3/4 cup good quality cocoa powder
1 teaspoon salt
1 teaspoon baking soda
1 stick butter, softened
3/4 cup granulated sugar
3/4 cup packed brown sugar
1 large egg
1 teaspoon vanilla extract
1/2 cup dry red wine, such as burgundy
10 ounces dark chocolate, broken into chunks
1 cup dried tart cherries


Preheat oven to 375°.
Combine flour, cocoa powder, salt, and baking soda in a bowl. Use an electric mixer to combine butter and sugars until fluffy. Add egg, vanilla, and wine, and combine. Slowly in batches, add the flour mixture until just combined. Fold in the chocolate and cherries. On a nonstick cookie sheet, place a heaping tablespoon of dough for each cookie about 2 inches apart from each other. Bake 8 to 10 minutes, or until tops are still soft looking but edges look firm.
Ingredients:
For Brioche:
2 1/4 cups bread flour
1/4 cup granulated sugar
2 1/4 teaspoons (1 packet) Red Star Platinum Yeast
1 1/2 teaspoons salt
9 tablespoons cold unsalted butter, cubed
3 eggs
1/4 cup milk
For Red Wine Caramel:
2 cups Cabernet Sauvignon or Merlot
1 cup granulated sugar
1 teaspoon cinnamon
dash of cloves
Other Ingredients:
3 ripe red Anjou pears, peeled, cored, and sliced into 8 slices each
1/4 cup sliced almonds
In a large bowl, whisk together flour, sugar, yeast and salt. Add dry ingredients and butter to a food processor. Pulse until dough becomes sandy with pea-size pieces of butter. Add eggs, one at a time, pulsing to incorporate after each addition. Add milk with last egg and pulse until dough forms and everything is evenly combined. Prepare a 10-inch springform pan by lightly spraying with a baking spray containing flour. Place a parchment circle on the bottom of the prepared pan. Scrape dough into prepared pan. Spray hands with baking spray as dough will be very sticky. Gently press into the bottom. Cover with plastic wrap and allow it to rise at warm room temperature for 2 hours until puffy but no necessarily doubled in size. While dough rises, whisk together wine, sugar, cinnamon and cloves in a medium saucepan. Place pan over medium-high heat and bring to a boil, whisking until sugar has dissolved. Add pears, reduce to a simmer and cook until pears just until fork tender, 6-8 minutes. Remove pears with a slotted spoon. Set aside to cool. Return wine mixture to a low boil and reduce until very thick and syrupy. Remove from heat and set aside for serving. Preheat oven to 375 degrees. Top risen brioche with cooled poached pears and sprinkle edge with sliced almonds. Bake in preheated oven 45-55 minutes until dark, golden brown. Remove from oven. Remove sides from pan and cool on a wire rack. Slice into wedges and serve drizzled with red wine caramel.
Ingredients:
3 cups fruity red wine, like Beaujolais
1 ½ teaspoons black peppercorns, lightly crushed
2 2-inch cinnamon sticks
2 2-by-1/2-inch strips orange zest
1 ½ cups sugar
12 medium red plums, each pitted and cut into 6 slices
20 almond biscotti
Combine the wine, peppercorns, cinnamon sticks, orange zest and 1 1/4 cups of sugar in a medium saucepan and bring to a boil. Lower the heat and simmer until reduced to 1 1/2 cups, about 30 minutes. Strain and set aside. Meanwhile, place the plums in a large bowl and toss with 1/4 cup sugar. Let stand for 20 minutes. Place the biscotti in a large plastic bag and pound with a rolling pin until coarsely crushed. Spread them in a 7 1/2-by-11 1/2-inch shallow baking dish. Preheat the oven to 350 degrees. Spread the plums with their juice over the biscotti. Drizzle the wine syrup over the plums. Cover with aluminum foil and bake until the plums are soft but not mushy, about 1 to 1 1/2 hours, depending on ripeness. Serve warm or at room temperature.
BONUS RECIPE: This recipe looks so good we had to add it to our list though it involves using a white dessert wine.
Ingredients:
8 firm, ripe Bartlett pears
1/2 cup raisins, chopped
1/2 cup packed light brown sugar
1/2 teaspoon finely grated fresh orange zest
1/2 teaspoon finely grated fresh lemon zest
1 cup plus 2 tablespoons Sauternes or other white dessert wine
6 large egg yolks
1/4 cup granulated sugar
Madeleines (to be used as accompaniments)
Preheat oven to 375°. Peel pears, leaving stems intact, then core from bottom using a melon-ball cutter or a sharp small knife. Stir together raisins, brown sugar, zests, and 2 tablespoons Sauternes and fill pear cavities with mixture. Stand pears upright in a buttered baking dish just large enough to hold them and pour remaining cup Sauternes over pears. Cover dish tightly with foil and bake in middle of oven until tender, 30 to 40 minutes. Transfer pears to a serving dish or plates using a metal spatula to hold filling in place and pour cooking liquid through a sieve into a bowl. Whisk together yolks and granulated sugar in a large metal bowl and add hot cooking liquid in a stream, whisking constantly. Put bowl over a pan of barely simmering water and vigorously whisk, or beat with a handheld electric mixer, until mixture is tripled in volume and registers 160°F on an instant-read thermometer, 3 to 5 minutes. Serve pears warm with sauce.
Founded in 1934, Haskell's has championed fine wines for over 80 years. We have 13 wine stores in Minnesota, two delis and one restaurant. As one of the top wine shops in North America, Haskell's is known for legendary service and one of the finest collections of wine, beer and spirits. Led by Chairman and CEO Jack Farrell, and the Farrell family, Haskell's continues to be at the forefront of the wine scene throughout the world. Haskell's also can ship wine, beer & spirits all throughout the world, the U.S. and we deliver locally.