Haskell's Wine Recommendations
You may consider yourself a wine connoisseur, but how much do you really know? Here at Haskell's, we take you to the seed of the grape with our behind-the-wine blog series: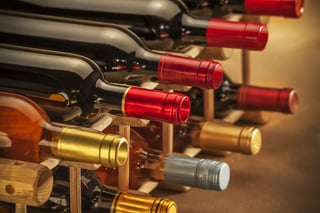 Casa Farrelli
The Farrell family joined forces with Stefano Girelli to create this original product line from Italy. The Prosecco, from Vento, is a refreshingly light and crisp wine that makes the perfect start to any event. The Pinot Grigio is sourced from Sicily, where the warm climate brings out a clean and crisp white wine that pairs perfectly with any shellfish. The Tuscan Chianti is an approachable and versatile red wine. Made from Sangiovese grapes, this wine pairs well with a variety of foods, especially Italian staples like pizza or spaghetti.
Casa Farrelli Pinot Grigio ONLY $8.99
Casa Farrelli Chianti ONLY $8.99
Casa Farrelli Prosecco ONLY $9.99
Chateau Cabrieres
The district of Chateuneuf-du-Pape has a rich and wonderful history. Chateau Cabrieres, translating to "House of the Goats", was once a goat farm, but is now home to a variety of palette pleasing wines. The wine from this area is rich and complex, but won't break the bank. We highly recommend their Cotes du Rhone and Petit Cabrieres. The wines from Chateau Cabrieres are great for wine cellars, as you can drink them on a regular basis with just about any meal.
Le Petit Cabrieres ONLY $7.99
2011 Cotes du Rhone ONLY $12.99
Chateau Cabrieres Châteauneuf-du-Pape (2007, 2009, 2010 All On Sale!)
2012 Vouvray Voltaire
With the holiday season upon us, what better time is there to serve some Vouvray? This particular wine comes from the Loire region of France, where vineyards are called gardens. Vouvray is made with 100% Chenin Blanc, which has a sweet melon flavor. With one sip, the sweetness transforms to provide a crisp sensation. This unique characteristic makes Vouvray the perfect complement to your holiday ham or turkey.
Vouvray Voltaire ON SALE $11.99
Aguaribay
Malbec is one of the most popular grape varietals in America today. The grape originated in the southwest of France, but immigrants brought the Malbec grape to the slopes of the Andes Mountains outside the town of Mendoza. Edmond Rothschild, of Bordeaux, purchased the Aguaribay Winery and has been producing extraordinary wines ever since. His wine has great depth and concentration on the palate with a rich and long-lasting finish. We highly recommend these wines with any type of red meat, especially when grilling. For a bolder taste, try the Flechas de los Andes ($14.99). The name is translated, "The Arrows of the Andes," since the arrow is the symbol of the Rothschild Family.
Aguaribay Malbec ON SALE $9.99
Flechas de los Andes Malbec ON SALE $14.99
Gran Corte Malbec ON SALE $25.99
Founded in 1934, Haskell's has championed fine wines for over 80 years. With 13 wine stores in Minnesota, two delis and one restaurant. Haskell's ships throughout the U.S. and delivers locally. As one of the top wine shops in North America, Haskell's is known for legendary service and one of the finest collections of wine, beer and spirits. Led by Chairman and CEO Jack Farrell, and the Farrell family, Haskell's continues to be at the forefront of the wine scene throughout the world.