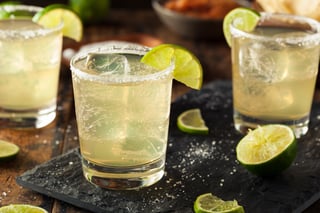 Fresh herbs are abundant this time of year. Whether you are growing your own or picking up bouquets at your local farmer's market, there are many ways to enhance both your food and drinks with aromatic herbs and spices – so we have plenty of recipes to spice up your summer by making cocktails with herbs.
So, how does your garden grow? Basil? Cilantro? Green onions? How about mint, oregano or thyme? They add subtle layers of herbal flavor that are refreshing reminders of our perfect Minnesota summer days. Of course, you can simply garnish all of your cocktails with a few sprigs of whatever you are growing. If you grow it, you can drink it too! Here are some recipes for vodka, gin, bourbon, tequila, mescal – and plenty of garden herbs to turn you into a backyard bartender.
Cucumber, Cilantro Gin and Tonic
Ingredients:
2/3 cup gin
1/2 English cucumber, thinly sliced crosswise
1/2 cup roughly chopped cilantro
1 tablespoon fresh lime juice
1 1/2 cups ice cubes
1 cup tonic, chilled
In shaker, muddle gin, cucumber, cilantro and lime. Cover; shake vigorously. Divide ice between 2 tall glasses; top with gin mixture, then tonic.
Rosemary, bourbon, and maple syrup – how can you go wrong?
Ingredients:
2 oz. simple syrup
2 sprigs fresh rosemary
4 oz. bourbon
2 oz. fresh lemon juice
2 tsp. orange marmalade
1 tbsp. maple syrup
1 tbsp. fresh orange juice
1 egg white
Boil simple syrup and 1 sprig rosemary in a small saucepan; cool. Discard rosemary; transfer syrup to a cocktail shaker with bourbon, lemon juice, and marmalade. Add ice, shake until chilled, and strain into a highball glass filled with ice. Add maple syrup, orange juice, and egg white to shaker; shake until frothy. Spoon froth over top of cocktail; garnish with remaining rosemary sprig.
Ingredients:
3 lemon wedges
1 1/2 oz. lemon-thyme syrup (recipe below)
3-4 oz. vodka
Sugar
Club soda
Thyme sprig
In a shaker, muddle 2 lemon wedges with lemon-thyme syrup (recipe follows). Add ice and vodka to taste; shake. Strain into a chilled highball glass rimmed with sugar. Top with club soda. Squeeze a lemon wedge over the drink and add. Garnish with a thyme sprig.

Lemon-thyme syrup: In a pot, combine 1 1/2 cups water, and 1 cup plus 2 tablespoons sugar. Simmer until sugar dissolves and add several sprigs of thyme. Let stand 2 hours. Add 3/4 cup fresh lemon juice, strain, and chill.
For the Cranberry Syrup:
2 cups 100% pure, unsweetened cranberry juice such as Knudsen Just Cranberry
1 cup sugar
For Each Drink:
2 oz. mescal
1 oz. cranberry syrup
1/4 oz. agave nectar
6 basil leaves
Garnish: basil leaves and 1/4 oz. extra cranberry syrup
For the cranberry syrup: Add cranberry juice to medium saucepan. Bring to a boil, and then reduce heat to a simmer. Allow the juice to reduce by half. Remove from the heat and then add sugar. Stir to dissolve.
For each drink: Add basil leaves and agave nectar to the bottom of a julep cup then muddle gently. Add mescal and cranberry syrup, add the straw, then top with crushed ice. Drizzle extra 1/4 oz. cranberry syrup on top, garnish with basil leaves, then serve.
Ingredients:
1/2 lemon, cut into wedges
6 fresh sage leaves
2 oz. añejo tequila
3/4 oz. honey syrup (equal parts hot water and honey)
Muddle the lemon in a shaker. Add the sage and gently muddle. Add remaining ingredients with ice and shake. Double-strain into an ice-filled glass and garnish with fresh sage leaves.
More Cocktails With Herbs
Cheers! What is your favorite summertime cocktail with herbs? Share your cocktail story!
Founded in 1934, Haskell's has championed fine wines for over 80 years. We have 13 wine stores in Minnesota, two delis and one restaurant. As one of the top wine shops in North America, Haskell's is known for legendary service and one of the finest collections of wine, beer and spirits. Led by Chairman and CEO Jack Farrell, and the Farrell family, Haskell's continues to be at the forefront of the wine scene throughout the world. Haskell's also can ship wine, beer & spirits all throughout the world, the U.S. and we deliver locally.