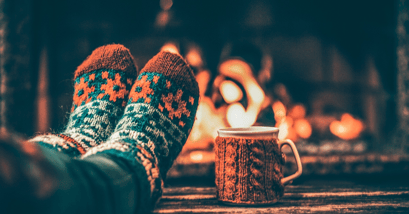 It's hard to believe we're in the throes of winter, isn't it? Well, since we're here and all trying to survive the cold together, it might help to cozy up with something tasty in your cup. Classic winter cocktails for snow days provide the warming feelings and flavors that turn the bitterness of winter into a special time with friends or family — or sometimes just enjoying some time by yourself to slow down.
The key to classic winter cocktails are knowing a few quintessential ingredients. Let's dig into a few recipes for these cold-weather drinks.

Snowshoe Grog Cocktail Recipe
Sweet simplicity is the way to start or end an evening staying warm inside while the weather isn't too friendly. The Snowshoe Grog cocktail works with bourbon, or if you prefer a little sweeter, try it with brandy. Some longtime northerners will tell you that with brandy is the way it's supposed to be made, but we'll let you decide for yourself.
Ingredients:
How to make a Showshoe Grog cocktail:
Place ice in a lowball glass then pour in bourbon and peppermint schnapps.

Stir for about 30 seconds to mix and chill the drink.
Tom and Jerry Cocktail Recipe
No, it's not the cartoon… The Tom and Jerry cocktail is one of those rich, spiced, classic winter cocktails that only feels right when the temperature drops. Some folks will tell you to buy the Tom and Jerry batter — by all means, do you what wish. In case you want to make it at home for that extra level of homemade comfort, read on.
How to make (a huge batch of) Tom and Jerry batter:
Separate a dozen egg yolks and whites.

In a bowl, whip the egg whites with 1 tsp. cream of tartar until stiff peaks are formed.

In a different bowl, beat egg yolks with 1 1/2 lbs. sugar, 2 oz.

dark rum

, and 1 tsp. vanilla extract. Once that mixture is in consistent liquid form, fold it into the bowl of egg whites.
Cocktail ingredients:
1 oz. dark rum

1 oz.

cognac

1 tbsp. Tom and Jerry batter

Hot whole milk

Nutmeg

Clove

Allspice

Boiling water
How to make a Tom and Jerry cocktail:
Warm a coffee mug with boiling water and pour it out.

Pour rum, cognac, and batter in the mug.

Add hot milk to nearly fill the mug.

Garnish with freshly grated nutmeg and a touch of ground allspice and ground clove.
Hot Buttered Rum Cocktail Recipe
Here's one of the most classic winter cocktails you can hope for. If you ask us, we say lean a little more into a nice rum so abundant flavors come through in the mixture. Also feel free to increase the amount of rum if you want a stronger concoction to warm your throat and your chest.
Ingredients:
2/3 cup dark brown sugar

1/2 cup (1 stick) unsalted butter at room temperature

1/4 cup honey

1/2 tsp. ground cinnamon

1/4 tsp. ground nutmeg

1/8 tsp. ground cloves

Pinch salt

3/4 cup

spiced rum

2 cups boiling water

4 cinnamon sticks
How to make a Hot Buttered Rum cocktail:
Use an electric mixer to beat the brown sugar, butter, honey, cinnamon, nutmeg, cloves, and salt in a medium bowl until smooth and blended.

Pour mixture into a large measuring cup (at least 4 cups).

Add rum and 2 cups of boiling water, then stir until the butter mixture is dissolved.

Equally pour the mixture among 4 coffee mugs.

Garnish with cinnamon sticks.
Stay warm and stay thirsty!