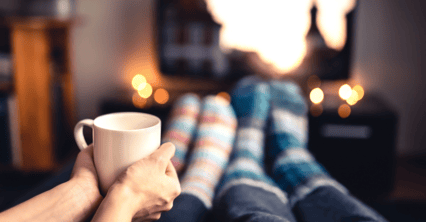 Ring the bells! Play the music! We've finally made it all the way to Christmas! And of course, that means it's almost time for your favorite Christmas morning drinks.
Your anticipation builds as the day of holiday festivities approaches. Everyone's making their travel arrangements and planning the food. Your parents are handling the main courses, Uncle Darryl is grilling his infamous Christmas hot wings, and Grandma Mary baked her Christmas pies...but who's handling the Christmas drinks?
Turns out it's you — but this is no problem whatsoever. Thanks to the handy articles we share here and the excellent selection of wine, beer, and spirits around the Twin Cities, you've become the one your family and friends rely on for the right drinks for the perfect occasion. And now, it's your time to shine with your new favorite Christmas morning drinks.
Nothing makes Christmas merrier than a delicious drink to accompany your carols (or Charlie Brown Christmas playlist) and gift exchange. Here are some recipes — alcoholic and non-alcoholic — to enjoy with family and friends. You'll find classic recipes as well as new twists on favorites like Bloody Marys and mimosas. Let's dive in with some of your new favorite Christmas morning drinks (or maybe they're already your old classics).
Christmas Morning Mimosas recipe
Ingredients:
1 bottle

champagne

(750mL)

3/4 cup cranberry blood orange or pomegranate juice

rosemary sprigs for garnish

sugared cranberries for garnish

4 oz. cranberries

1 1/2 cup granulated sugar

1/3 cup water
How to make 6 Christmas Morning Mimosas:
Prepare the sugared cranberries:

Add 1 cup of sugar and 1/3 cup of water to a saucepan over medium heat.

Whisk and bring the mixture to a boil, about 3 minutes. Set it aside to cool.

Once the syrup is cool, toss the cranberries in the mixture. Dust the cranberries with remaining sugar.

Pour 1 oz. of juice in each of 6 chilled champagne flutes. Fill glasses with champagne.

Garnish each drink with a sprig of rosemary and sugared cranberries.
Christmas Morning (Non-Alcoholic) Eggnog recipe
OK, this one takes a little while to prepare, and it's a bunch of ingredients. But trust us — the eggnog drinkers among your family and friends will really appreciate this non-alcoholic option, plus the imbibers can add a shot of rum or bourbon if they want to booze it up.
Ingredients:
3 large eggs plus 2 large egg yolks

3/4 cup sugar

Kosher salt

3 1/2 cups whole milk

1 1/2 cups heavy cream

1 tsp. pure vanilla extract

6 oz. bourbon

1/4 teaspoon freshly ground nutmeg

Grated lemon zest
How to make 6 servings of Christmas Morning Eggnog:
In a medium bowl, thoroughly mix eggs, egg yolks, sugar, and a pinch of salt.

In a medium saucepan, heat milk and 3/4 cup of cream over medium heat until it steams, then remove it from the heat.

Whisk about 1 cup of hot milk mixture into the egg mixture, then pour the milk-egg mixture back into the saucepan.

Put the saucepan back on medium heat and stir it constantly with a wooden spoon for about 5 minutes, until the mixture is thick enough to stick on a spoon (it will be around 165 degrees Fahrenheit).

Remove the saucepan from the heat, and stir in vanilla and nutmeg.

Strain the liquid through a fine mesh strainer into a medium bowl, and let it cool about 1 hour.

Refrigerate the mixture until it's cold — at least 2 hours but no more than 2 days.

When you want to serve eggnog, use an electric mixer and a large bowl to whip the remaining 3/4 cup cream to medium peaks.

Slowly pour in the cold milk-egg mixture while whisking. The eggnog should be creamy and thicker than heavy cream.

Sprinkle a touch of nutmeg and lemon zest to garnish the drinks and enjoy.
Slow Cooker Hot Spiced Apple Cider recipe
Easy, non-alcoholic, sweet, and perfect for winter holidays. You and your family and friends will love this wassail recipe and probably want to make it your yearly tradition.
Ingredients:
2 qts. (64 ounces) apple cider

1 orange

2 tbsp. whole cloves

8 oz.

rum

6 cinnamon sticks, plus 8 for garnishes
How to make 8 servings of Slow Cooker Hot Spiced Apple Cider (Wassail):
Pour apple cider into a large slow cooker and add 6 cinnamon sticks.

Poke holes around the orange about 1/2 inch inch apart (using a toothpick is fine). Carefully poke the cloves into the holes.

Add the orange to the slow cooker contents.

Cook the mixture on low for about 4 hours.

To serve, ladle the mixture into mugs along. For adults who desire, add 1 oz. of rum. Garnish each mug with a cinnamon stick.
Happy holidays from your friends at Haskell's!