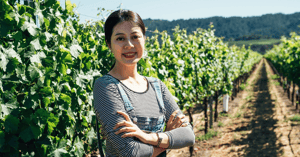 One of the best things about wine tasting is that it's an experiential (and delicious) way to explore the world.
Since the Chinese New Year is Saturday, January 25, we're going to do some exploring. To celebrate, we're not going to focus on the Chinese New Year, but rather, the lesser known world of Chinese wine.
Wine from China performed well at the Decanter World Wine Awards in 2019 and continues to rise in popularity. Will it be a breakout star in 2020? Nothing's certain, but it's worth knowing these basics about Chinese wine.
Why Haven't We Heard Much About Chinese Wine?
Chinese wine has existed for hundreds of years, so why are we only just now starting to hear about it? Well, production has increased in recent decades, but most often it has been consumed in China, much like other Chinese alcohols that are produced on a massive scale—like the grain spirit baijiu, made from fermented sorghum and sometimes rice—but haven't found a strong footing in drinking culture in other parts of the world.
Surprisingly, it's reported that China is now the seventh largest producer of wine in the world, just behind Argentina and Australia. China has more land devoted to wine production than any other country except Spain—an impressive feat in it's own right.
Grape Varietals for Chinese Wine
Some of the main grape varietals produced in China are Cabernet Sauvignon as well as Carménère (which is called Cabernet Gernischt in China) and Cabernet blends.
Chardonnay and Riesling are the most common white wine grapes grown in China.
A few combinations of local grapes and Old World grapes from Europe that are sometimes produced in China are Marselan, Longyan, and Beichun (from Muscat and others).
What Does Chinese Wine Taste Like?
It's no surprise that Chinese wine and the major focus on Cabernet Sauvignon means that much Chinese red wine tastes of sweet, jammy, dark fruits, sometimes with notes of oak or tartness. Chinese white wines carry flavors of white peach, floral honeysuckle, and citrus.
Because some of these vines are so young and the techniques for tending these vines in a new place are not yet refined through generations of growth and tending like you see in Old World vineyards of Europe, some Chinese wines come off a bit imbalanced, too tart, and big on flavors but unrestrained. This doesn't mean some Chinese wines are not good—some are certainly good and have won awards accordingly—but this means Chinese wines have the chance to continually get better as more experience is gained in the care for vineyards and winemaking.
Where Can You Get Chinese Wine?
Well, as of the most recent time we checked...nowhere close, if you live in the Twin Cities area of Minnesota and Wisconsin. But hold on, because 2020 might be the year Chinese wine hits wine shops and liquor stores in the United States.
Want to Try Chinese Wine? Choose Ningxia Wine
Ningxia wine comes from one of the most productive and most promising places for Chinese wine. In 2016 the Ningxia region produced about 120 million bottles of wine from the around 100 wineries spread across the area.
A 2019 gold medal-winner was a Cabernet Sauvignon from the Ningxia winery Ho-Lan Soul. Other notable names include Kanaan Winery and Helan Qingxue Vineyard, which won the 2011 International Trophy at the Decanter World Wine Awards for their Jia Bei Lan Grand Reserve 2009 (2009 Cabernet).
What to Drink While You Wait to Get Your Hands on Chinese Wine
Since Chinese wine isn't widely available in the United States quite yet, here's what we recommend you enjoy.
Cabernet Sauvignon

, since this is the most commonly produced variety in Chinese wine

Riesling

, one of the most produced white wines in China

Baijiu, a super-popular Chinese liquor
Cheers to exploring different wine in a new year!